Going into the last race week-end of the season (points-scoring week-end, that is; there were two enduros still to run), I was a teensy bit nervous about my first experience with the high-horsepower "groundpounders" of Group 1, about which I'd heard so many unnerving stories. Little did I know that I'd get to see an example of one….
Saturday morning started off a bit weird, as it was a bit cold and really, really foggy. So foggy, in fact, that the corner stations can't see each other, which is an unsafe situation. Much grumbling from drivers about being able to see well enough to drive, but it's a no-go by the safety people. I'm all for getting my money's worth, too, but it seems silly to get pissed about not being able to run if the people (volunteers!) who are there to help keep you safe and/or alive in the event of a problem say it's not safe to run.
In the end, the organizers decided to cancel all the morning's practice sessions and resume with Novice practice after the normal lunch break, followed by the afternoon's normal qualifying sessions. While this meant that I wouldn't get any low-pressure practice time with the monster-fast Group 1 cars before qualifying, I would at least get some pre-qualifying seat time during the Novice practices (I was also registered for the Novice race later in the day).
Qualifying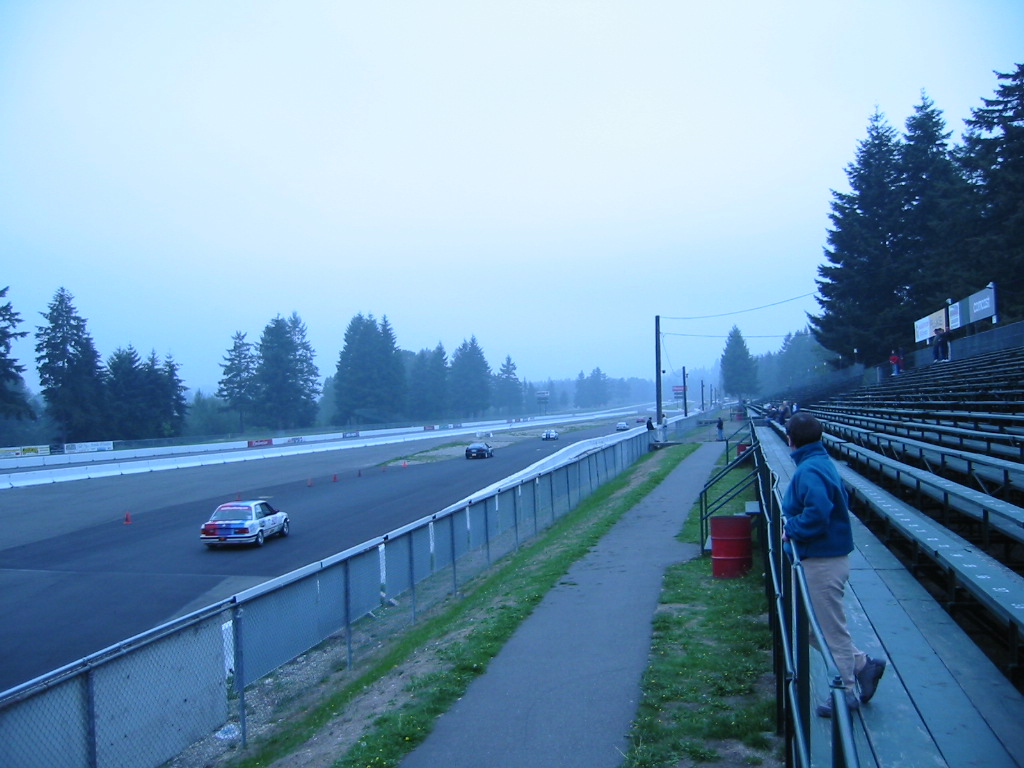 It's been so long from the actual event to the time of this writing, unfortunately, that I can't remember much about the two qualifying sessions. One thing I do remember, though, is the accident between Roland Ayala's SPM BMW E30 and the scary-fast (track record holder, in fact) SPO car of Mike Rockett. At the tail end of the first qualifying session on Saturday, the sometimes-scary nature of Group 1 was illustrated for me when Mike came scything down the front straight, passing slower cars (i.e., everybody else) at will. As he popped out from a slower car to enter Turn 1, he tagged Roland's car in the right-rear as Roland took the line for the bend in the front straight. Undoubtedly Roland had checked his mirrors to see who was behind and/or approaching, but Rockett's car is just so damned fast that Roland probably never saw him before taking the line. Fortunately both drivers were unhurt, but the incident was so severe that Roland's car was done for the week-end and so was, after just 5 laps, the first qualifying session.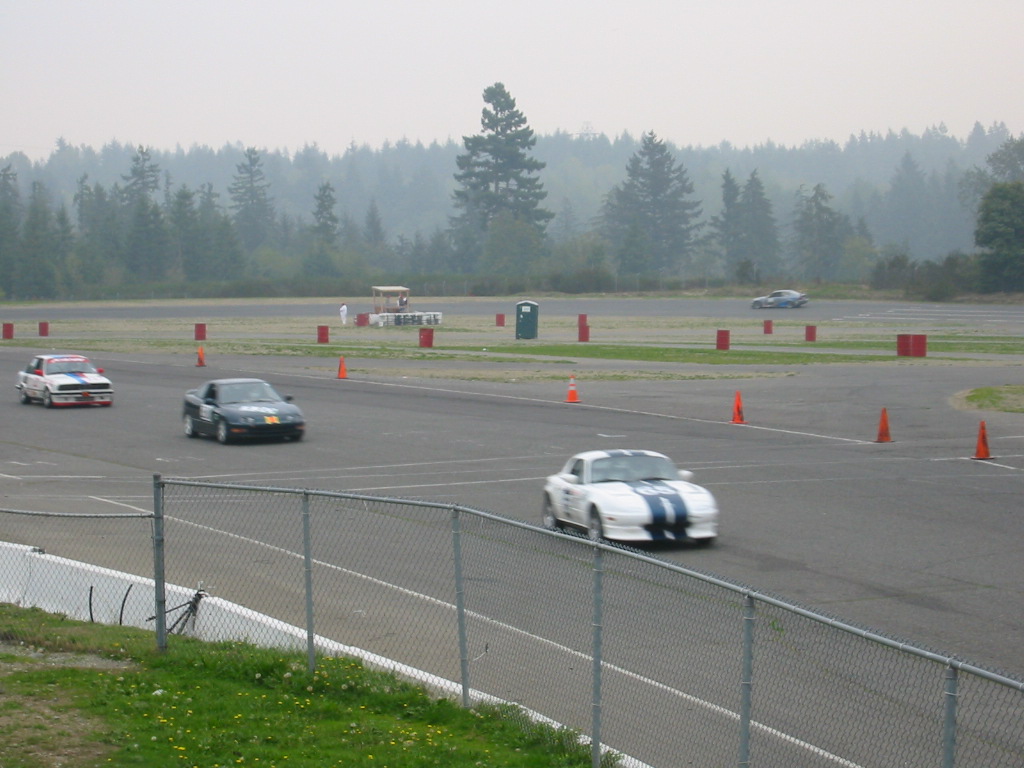 The encouraging news for me was that my lap times from both sessions (especially Sunday's) didn't suck. In fact, I even outqualified Richard Cabe, whose ITA Miata I'd followed during a lapping day long ago, marveling at how fast he was, and whose "racing operation" I'd observed in August of 2002 had convinced me that maybe I, too, could go racing. (In fact, I'd gone below 1'47" in 8 out of 15 qualifying laps, pretty much faster than I'd ever gone at Pacific Raceways except during the Novice race on Saturday.)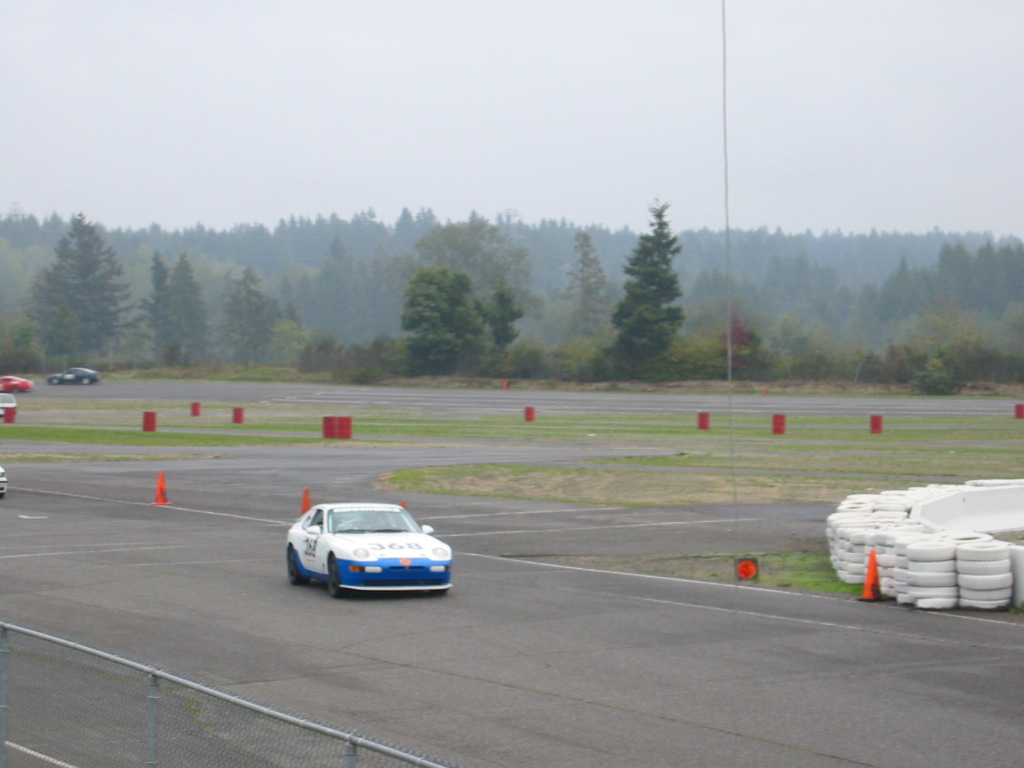 Race
Unlike the Novice races, which are always the last event on Saturdays, the senior races rotate their positions in the schedule so that they're not always the first or last race on Sunday. As it happened, Group 1 was the last race on Sunday this particular week-end.
After a couple of serious but not "going for the pole" qualifying sessions, I found myself gridded 24th overall, behind one of the Kahn Team Racing BMWs and in front of what I assume was an upgunned Mazda Miata (he was running in SPM instead of the expected SPU; maybe he was running a turbo?), 3 spots behind the 2nd in class Datsun 2000 roadster of Guy Selle and 6 behind the 1st in class BMW E36 325is of Mike Blaszczak. (I was also 9 behind Eric Krause's 968, running his first Area race in SPM after getting upgraded the day before.)
My awesome starts must've definitely been due to the nature of Novice races, 'cause we were one big formation going into Turn 2, where I stayed wide and subsequently got passed by the Miata. As we ran down the hill toward the 3A hairpin, I saw a lot of cars getting really close to each other, as well as some rather interesting passes. As for myself, I was just intent on keeping clean and eyeing the rather ugly (lots of, um, "interesting" fiberglass work) SPM BMW 320i that was either behind or next to me from Turn 2 on, until he passed me going out of 3B onto the back straight. As we went through the 5/6 complex (also known as the "Valley of Death"), I saw the same Corvette from the Novice race of the day before, who had spun going into Turn 6.
I was able to hang with the 320 as we started lap 2 and was even able to pass both him and an RX-7 that had started ahead of me under braking for Turn 2, which put me on the tail of a gorgeous red Mustang fastback on exit. I was finally able to get inside of him as we both passed a wounded Kahn BMW 325 going into Turn 8, but he pulled away as we entered the front straight (big surprise). As I braked for Turn 2, the 320 got inside of me and eventually passed me for good as we went into 3A. Shortly thereafter, I passed another wounded Kahn BMW heading up the incline to Turn 5A; they were both to drop out during the race, which is pretty rare for them.
The "highlight" of the third lap came as I exited Turn 8, which I take in 2nd gear. As I approached Turn 9 I just could not find 3rd gear, although I was eventually able to find 5th… I finally got it into 3rd as I entered Turn 9. Three laps later I passed my first backmarker, a first-generation Toyota MR2 entering 3B.
I had been seeing Guy's white Datsun in the distance for a lap or so, but approaching Turn 2 I saw him lock up the brakes and swing wide on entry. Although I was still quite a ways behind him, seeing this gave me confidence that I had a chance to catch him.
The race-leading Chevy Monte Carlo-based SPO groundpounder rumbled past me on the back straight on lap 7, followed by Mac Russell's 2nd place 350Z-silhouette SPM on the outside of Turn 9. (The purpose-built SPO cars sound pretty awesome, but Mac's tube-frame Nissan has one of the prettiest engine notes I've ever heard.)
I was slowly reeling in the Datsun, so I was quite stoked (for my sake) to see him spun backwards on the outside of 5A's exit point on lap 9. Since 3 to 4 cars in a class result in trophies for the first two finishers, getting by him meant I now had a chance at my first trophy in only my second "real" race!
At the very beginning of lap 10, I pointed by the Corvette that'd spun on lap 2. Going through 3A one lap later I passed another backmarker (interestingly enough, another first-generation MR2). On the same lap, I stayed way wide going through Turn 8 to let by a nose-to-tail battle between two 911s (classed in SPM mostly because of engine displacement) and a highly modified Nissan 240SX (classed that way because it's actually a tube-framed GT-3 car); they finished 3rd, 4th, and 5th overall. On lap 12, I lapped the first MR2 I had lapped for the second time.
I lapped a Datsun 510 just before the start of lap 13, then got lapped myself by Bruce Beachman in his "burgundy" (hee-hee… he hates it when people refer to it as maroon or burgundy; it's painted candy apple red, but most people can't tell) SPM BMW 325 going into Turn 2.
Lap 15 proved to be rather interesting, and for all the wrong reasons: I breathed the throttle a bit on the exit of 3B to let Mac Russell's now-leading 350Z by for the 2nd time but then, on the incline up to Turn 5A, and after I'd concluded he wasn't going to pass and so had started moving left to take the line, Ron Rowse in his SPO Monte Carlo made his move past me. Had I not kept my eye on him and he on me… well, it would've been really ugly if we'd touched at that point.
Lap 17 saw me lap the second MR2 for the second time going through Turn 2. (Oooh, numerology.)
Shortly thereafter, I made a tight pass on the inside of 3A on a 240SX (at least, I thought that's what it was) that I was sure was for overall position. It's still inconclusive to me, even based on the results, but he might've been a lapped car. Anyway, I carried so much speed into 3B that I almost lost it at the apex on what was the last lap. (Note to self: Don't do that again.)
So there it was: The very last championship race of the 2003 season, the first race in which I had really pushed myself and my car, and with my very first trophy to show for it. If 2004 starts off anywhere near as good as 2003 ended, I can't wait for it to start!