The year 2003 was supposed to be the year I had a dedicated track car instead of forcing my street car to do double duty; maybe I would run my first race late in the summer, but I wasn't in any hurry. Instead, 2003 saw me bust a gut getting my car ready ASAP for a race school and first race in early June.
Looking back at 2003
Once it became clear that I was going to be in a position to run more than a few races on Conference's race schedule for 2003, my goals changed from simply getting a Novice license and running a race or two to aiming for my Area license by season's end. I wanted to learn as much as possible; get more knowledge of the car, my abilities, and the tracks in Conference; and, above all, not screw up.
My only real setback was the crash I had in my first race, which cost me a bit of money and my first chance to race at Mission in Canada. The good news is that the crash taught me a lot (both about racing a front-wheel drive car and about <ahem> repairing a front-wheel drive car), nobody got hurt, I wasn't stranded in Portland after the accident, and I got a semi-amusing story out of it.
Overall, I'd say I was about 75% successful, in that it was really only the crash in June and the lack of truck/trailer that prevented me from learning more tracks; i.e., the Mission race I missed because of the crash and an unwillingness to drive the Integra 10+ hours to Thunderhill in California. I didn't embarrass myself, I improved over the course of the season, and I got lots of compliments and positive feedback from race officials and other drivers. I also got my Area license.
Looking forward to 2004
As I write this in January, the 2004 season promises to be interesting, probably more competitive, and hopefully more comfortable.
I want to mention that Greg Swanson of 99 West Trailers bent over backwards, jumped through hoops, went the extra mile (pick your cliche) to get me a truly awesome deal on the trailer and assorted accessories like a brake controller, hitch ball, tiedown straps, and so on. 99 West has a fixed discount for racers, but Greg really went to bat for me (hey, another cliche!) to work within my budget. Not that there's anything left of my budget, mind you, but not for lack of Greg trying.
The first item to note is that I bit the bullet and bought a 2004 Chevrolet Silverado pick-up and 20′ Interstate car trailer. Gone are the very dedicated, "old school" days of driving the race car to the track and, instead, I hope to arrive at the tracks a little more rested, with a few more tools and a bit more equipment, and by putting a little less stress on the car. And since it no longer has to be street-legal, I can be a bit more aggressive in the racing modifications I perform on it.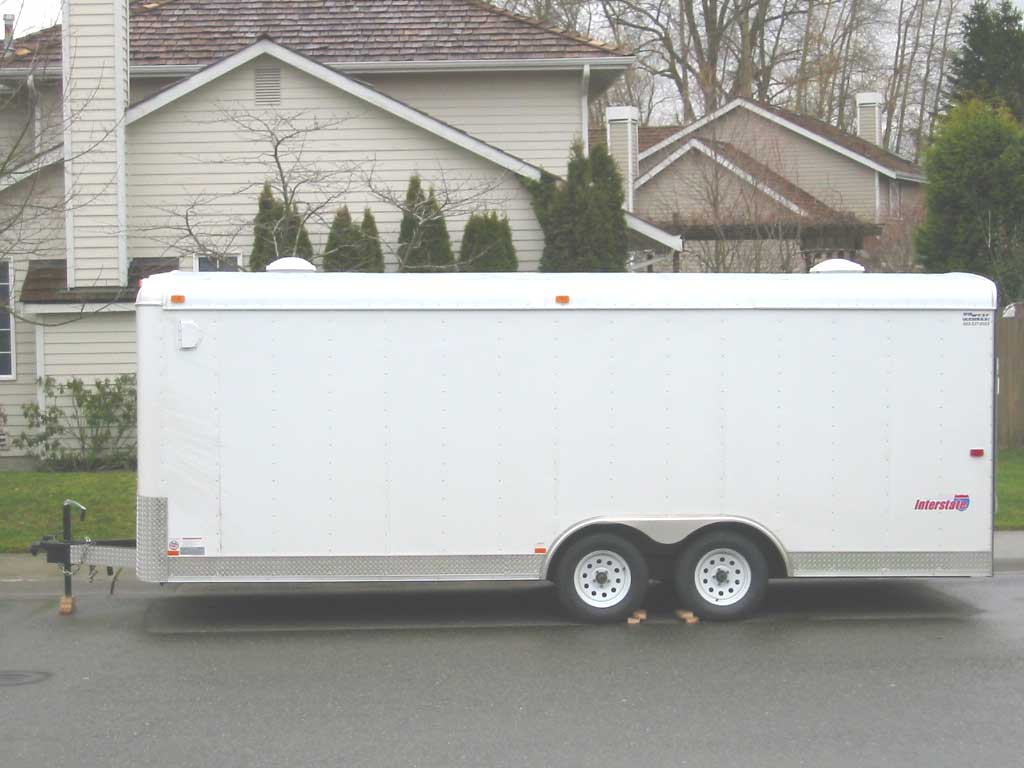 Second, I have some aggressive but very achievable goals for this season: First and foremost, I want to beat 2003's C Production champion Mike Blaszczak at least once or twice this year. Given some of his comments on his Web site, as well as a comparison of numbers from practice, qualifying, and racing, I think I've got a very legitimate shot. Secondly, I'd like to outperform the other consistent CP runner, Guy Selle, enough to be a solid second place in the championship.
Finally, and despite the fact this a hobby, I'm trying to be more serious and professional about it this year. To that end, I've enlisted the help of a driving coach, I've found someone to help out as crew, and I'm making a serious effort to enlist sponsors. I've also had the car painted in a "more race car-like" fashion.