I wasn't able to attend the double race week-end in Spokane in July, so this was my first race in two months. Also, for one reason or another, it was the first chance I'd had to really run at my home track (which was turning into less of one all the time, I've been running in Portland so often) since a lapping day in my street car late last fall. My "3rd gear" problem had been dealt with and, after the huge improvements I'd made over previous-best times as PIR, I was curious to see how much I could lower my personal best at Pacific.
Friday
After much head-scratching over whether to run Conference's annual endurance race as "rent a ride" drivers or in one of our own cars, Eric and I had decided to run a relatively low-budget effort in his Porsche 968. We figured that, for just a little more than what we'd pay to drive someone else's car, we could double our track time. Sure, it'd be a bit more bare-bones than a lot of folks who had driving slots open, but we weren't planning on winning anything as it was, so we felt okay with the idea. Later on, Hal Hilton (who runs a Porsche 944 in RS, but typically well up the pack from me) joined us, cutting back on individual driving time, but also cutting back on individual financial contributions. 🙂
I didn't want my first experience driving Eric's high torque, high horsepower, rear-wheel drive, 6-speed gearbox, and just generally unfamiliar car to be in the enduro itself, so we had planned on attending Pacific Raceways' "Test 'n' Tune" event for race cars on the Friday before the race week-end. Unfortunately, and after loads of beautiful weather, ol' Mom Nature decided the area foliage was too dry and just absolutely dumped rain the whole day. We seriously considered doing it anyway (after all, a race in mid-October in the Pacific Northwest has a high risk for rain), but decided there were enough other opportunities for a test day that we didn't need to go through the misery (not to mention risk to Eric's car) of a rain day.
Of course, we'd still need to get to the track to set up for the week-end, so we met up at 3pm to caravan (no, I don't know why, either, and I think it was even my idea) down south, with the intention of arriving when the gates opened up for the week-end at 4. Because we knew traffic was going to suck, as it usually does on Friday afternoons and despite the "early" hour of our departure, we took Eric's "back way" to PR. And, boy, was it ever a back way! I swear, it's the most roundabout route I've ever taken somewhere on purpose, starting out heading north and east (and I mean way east, heading all the way up into the Cascade foothills) for a track that's nearly due south. I even called Eric on his cell a couple times, making sure he knew where we were going. 🙂
Despite some truly awe-inspiring rain, including one bit that was so heavy that we ended up crawling through whiteout conditions (this being the Pacific Northwest, the sun was also shining during the deluge), we were able to avoid anything unpleasant, although we passed a couple of bad accidents where others weren't so unfortunate. In the end, though, it took us about 1.5 hours (for a typically 50-minute tow), which was probably pretty good, considering how bad the traffic map for 405 had looked before we left.
I think we were both surprised by the number of people who were already there and set-up by the time we arrived… I wouldn't've thought there'd be that much interest at a Test 'n' Tune on such a crappy day. Despite losing out on all the choice pavement spaces we thought we'd have access to, we found a decent area to park at the edge of the woods that was still (just) on the paved area of the paddock.
I unloaded the car, checked in at Registration, swapped from my street "rollers" to my dry (shaved) Toyos… and then went hunting for someone to tech the car. Since I've had an annual tech inspection done for my car, all they need to do is check out my clothes/helmet/etc, but tech at IRDC events tends to the chaotic when George B isn't around. I spent a fair bit of time just finding someone who could do tech, and then probably another 10 minutes just standing around in the pouring rain (and I mean pouring) while I waited for the guy to finish chatting about Mustangs with the guy whose Mustang he was tech'ing; I mean, sheesh, at least DO something while you're chatting. <sigh> I eventually made it out for home by 7pm.
Saturday
Sheer laziness made for a late start and I didn't arrive at the track until shortly before Group 5's practice session. The track was wet, it was alternately drizzling and raining lightly, and I just didn't feel like (and probably didn't have time for) switching over to my wet tires, so I spent the session cleaning my car of all the pine needles and whatnot that had accumulated over night. By the time Group 1's practice rolled around (two groups later), the track was still damp, but the drizzle was very light, both the car and I were ready, so I decided to head out.
The track was, unsurprisingly, a bit slick at the beginning (although PR's Turn 8 is slippery even at the best of times) but there was a nice dry line by the end of the 10-minute session. Later on in the day, I would find out that the massive area of dirt in the area between Turn 5B and 6 was actually the reamins of a 2-foot thick mudslide that had happened overnight!
Returning to my paddock space, it was time to see how The Oil Leak was faring. Well, lifting the hood rewarded me with a nice puff of magician-like smoke, following by a fair bit of constant smoke coming from the back side of the engine compartment, where oil had collected on the exhaust down tube. Luckily for me, Colin from Speedware was actually at the track, running support for a woman running a Porsche in B Production and RS, so he came over and confirmed that it was the oil pressure sending unit. Again. Again for like the 3rd or 4th time, no less. We jacked up the car and Colin wriggled under to see what he could do to fix the situation, a task made no easier by the nearly-impossible-to-get-to location of the unit. He eventually ran a bunch of Teflon tape around the threads and gave it a good tightening, so we figured we were good to go.
My dad & stepmom dropped by around lunch time, so they cruised around for a bit while I ate and then came back for a quick chat as I warmed up the car for Group 5's qualifying session. As I pulled away to go to pregrid, though, my Dad mentioned that there was a lot of oil under the car. Not to worry, I said, thinking he had noticed some residual spillage from the work Colin had done. Then he commented that, well, it sure looked like a lot of oil.
Deciding that taking a quick look wasn't going to take all that much time, I unstrapped from the car and got out to see what the fuss was, only to find a frickin' lake under the car, rapidly fed by the fastest leak I'd ever seen coming out of my car. I debated heading out anyway, for about a second, but that's probably how long my engine would've run at the rate oil was coming out of… the oil sending unit. Grrrr. Actually, the place where the sending unit goes into the block. See the problem is that the sending unit has a long tube that connects in a fairly small hole. On the other end of the tube is a large-ish area that fills with oil and then sends a signal to the gauge. When that thing is full of oil and vibrating around at the end of a narrow tube, the end in the block gets torqued to the point that it's nearly impossible to seal properly. So it doesn't.
Since Colin was playing crew at this point (RS is in Group 5), he was unavailable to effect a repair but, luckily for me, Drew from Speedware happened to be spectating and semi-willingly got dragooned into taking care of it. (Actually, what I didn't know at the time was he was formerly of Speedware, as he'd decided to return to Atlanta and was just in town to visit; if you're reading this, Drew, a HUGE "thank you" for helping me out!) His solution was to buy a pipe fitting plug from the ever-present Andy of Armadillo Racing (who pretty much brings his store with him to the races), remove the sending unit and plug up the hole. I wouldn't have an oil pressure gauge for the rest of the week-end, but I wouldn't have oil gushing out of my car like a Texas wildcat, either!
(In the end, Group 5 qualifying was stopped for quite a while due to some problem on the track and then only got going again briefly before the session ended, so I doubt I missed much. Still….)
By the time Drew had finished and I headed over to pregrid for Group 1 qualifying, the weather had cleared up nicely and the track was in good shape. (Or at least as good as a track that hasn't been completely resurfaced in 40 years is gonna get.) Unfortunately, the car felt really odd once I started pushing it during the session. I was understeering in the slow corners and oversteering in the fast ones… a truly brutal combination! I couldn't keep up with the people I usually do and was getting passed left & right by cars I know I'm faster than. Braking for Turn 5A was especially unpleasant, as the car wasn't riding the bumps in the brake zone very well and then felt really light transitioning through the corner. The truly spooky aspect to the session was the repeated beginning-of-a-tail-slide sensation I was getting going through Turn 1, which you might recall is a semi-blind, downhill kink to the right that you take flat out (in my case, at just under 130MPH). After everything that'd happened thus far, I was really not having a fun time.
To make things even more challenging, I was paranoid about the oil leak situation and, since I no longer had a working oil pressure gauge (or, as smartass Eric put it, I'd gone from analog to digital, i.e., a binary condition where I'd either have oil or I wouldn't!), the only way I'd know if I was losing oil again was if either my oil temperature started to climb or I saw a cloud of white smoke out the back. This caused to drive with one eye in the car, keeping close watch on a temperature gauge that kept climbing throughout the session…. (I would later decide that the temps I was seeing were totally normal. At the time, though… well, I said I was feeling paranoid.)
I had the sinking feeling that I knew what the problem was and, sure enough, upon returning to my paddock space I confirmed that I'd somehow left the rebound rate for my shocks on their softest setting after the last time I drove it on the street. Oh, man! On the other hand, it was pretty funny how all kinds of people (most I knew, some I didn't) kept coming by to ask what had been wrong with the car. I guess it looked as awkward as it felt, even to people who don't know all that much about cars or racing. (Note to self: Next time, write yourself a damn note!)
If I really searched for a silver lining after Group 1 qualifying, it would be that my fast time for the session was 1'45.164″, which is less than 0.2″ off my previous best time at PR. This was all the more surprising, as the handling problems throughout the session had led me to bet that I hadn't even broken 1'47"! I'm sure this is partly because I'm more aggressive with the car, but I'm also definitely a believer in the Toyo RA-1 tires now (as if I wasn't already).
Sunday
The morning's Group 5 qualifying session consisted mainly of me going out in a car that wasn't handling like total crap, trying to get a reasonably decent lap time so I didn't end up starting at the back of the traditionally huge Group 5 field. And that's all I have to say about that. (Thank you, Forrest Gump.)
While my provisional Group 1 time from Saturday was less-slow than I'd expected, it still left me 25th out of 31 cars, so Group 1's second qualifying session was really a chance for me to improve. It was also an opportunity to see if I'd improved as much at Pacific Raceways from last year as I had at Portland. The first lap out of the pits saw me tailing an interesting "battle" between Guy Selle's roadster and Eric's 968, as Eric tried to horse his much faster car past Guy, who was having none of it. (Until they got to a straight, of course, when there wasn't much Guy could do about it.) I was pushing pretty hard for the first five laps, but I typically turn faster laps during a race when I have someone to push/get pushed by. Thankfully, the last five laps of qualifying saw me in a "race" with Bill Spornitz' Inca Orange E30 325, featuring some really close and hard driving. We were running so hard that there was one time, under braking for Turn 3B, when I thought for sure I was going to tap his rear bumper. As we were chatting about it after the session, Bill actually apologized for holding me up! Ha! Not only did he not hold me up, but the timing sheets would later show those laps provided me with my fastest times of the session, including my final qualifying time.
Unfortunately, that time was also my fastest lap of the whole week-end, which meant that I had only shaved less than a second from my previous best the year before. While a lot of people would be happy to take that much off a personal best, the overall improvements in my driving from last year had led me to expect a bigger improvement.
Group 5 race (RS)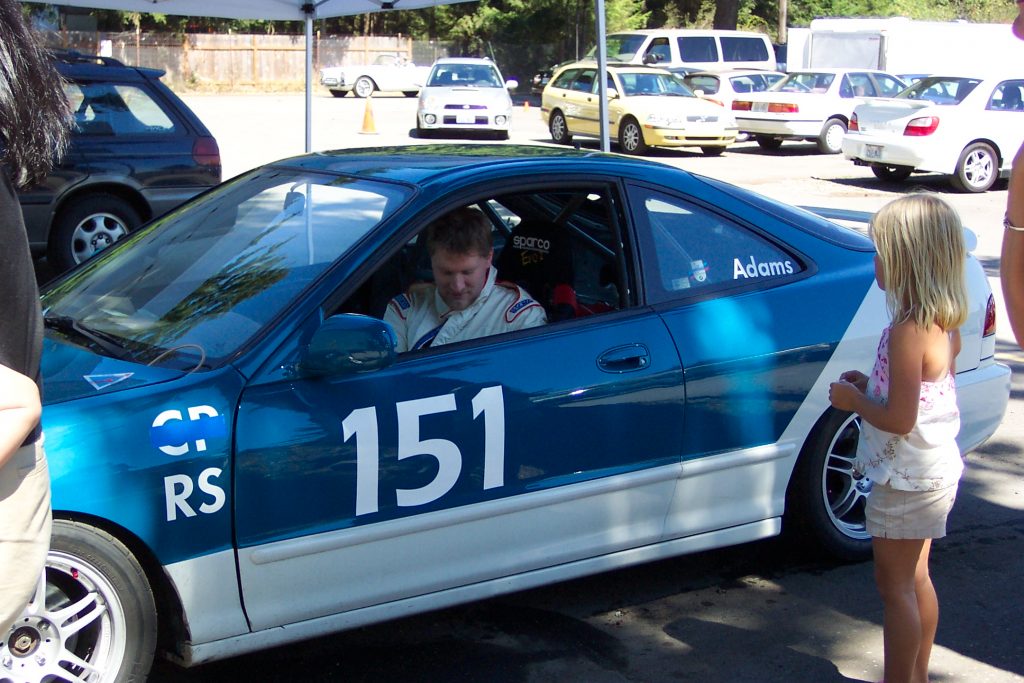 Despite my problems from Saturday, leading to a so-so qualifying Sunday morning, I was starting smack in the middle of a typically large Group 5 field of 56 cars, starting slightly ahead-of-middle in class. Coming around Turn 8 and heading through 9 in a field that big is an impressive sight and the sound was, as my sister later put it, "like a huge swarm of hornets." It gets even louder when 56 small-bore imports (all Japanese or German, plus one British MG-B and 4 one-off-race Dodge Neons from the driving school) slam the throttle to the floorboards upon sighting the green flag.
I got a really good jump at the start and took the inside line for Turn 2… where I got completely squeezed out and lost a ton of positions. I lost even more positions braking for the first hairpin at 3A before the field settled down a little. As we came up the hill through Turn 7 on that first lap, I stayed well to the inside of the typical line for Turn 8, passing 4 or 5 cars in the process. I was able to do this again on the following lap before the field spread out enough that folks started paying attention to the blue & white Integra taking a weird line into the corner.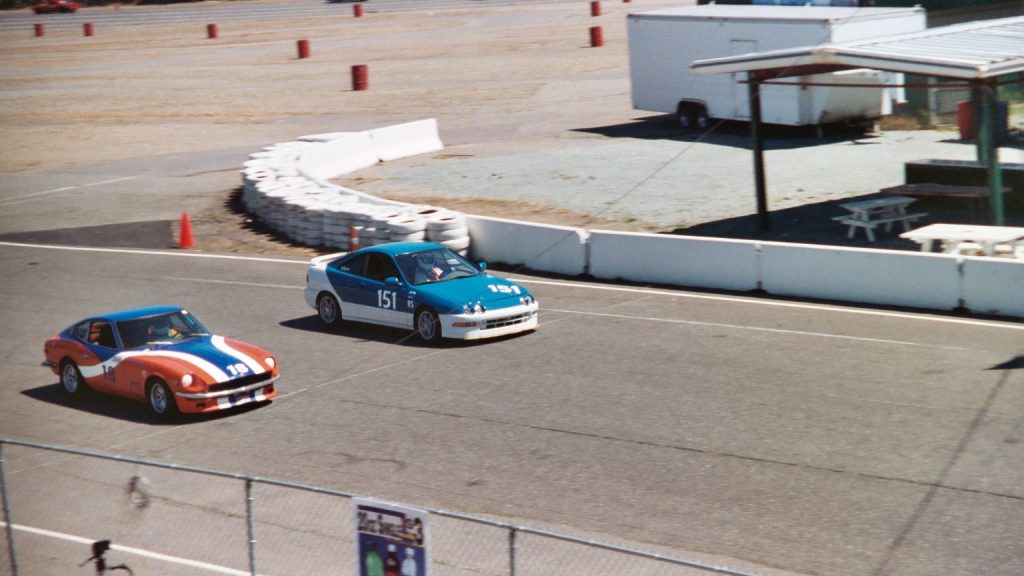 I knew I'd passed several other RS cars (some of which had dropped out) and was starting to settle in to just lapping competitively when I realized I was gaining on Jeff Wicks' E36 325i in front of me. I wasn't going to push too hard (it was a hot day and I was getting a bit worn out) until I realized he was running in the same class as me. Suddenly, all thoughts of taking it easy were gone and I was on the hunt. I caught and passed him relatively easily, which leads me to believe that he didn't realize it was a pass for class position, 'cause he sure came back after me in a hurry! We then proceeded to duke it out over for a couple of laps, with me just able to stay in front of him when it mattered.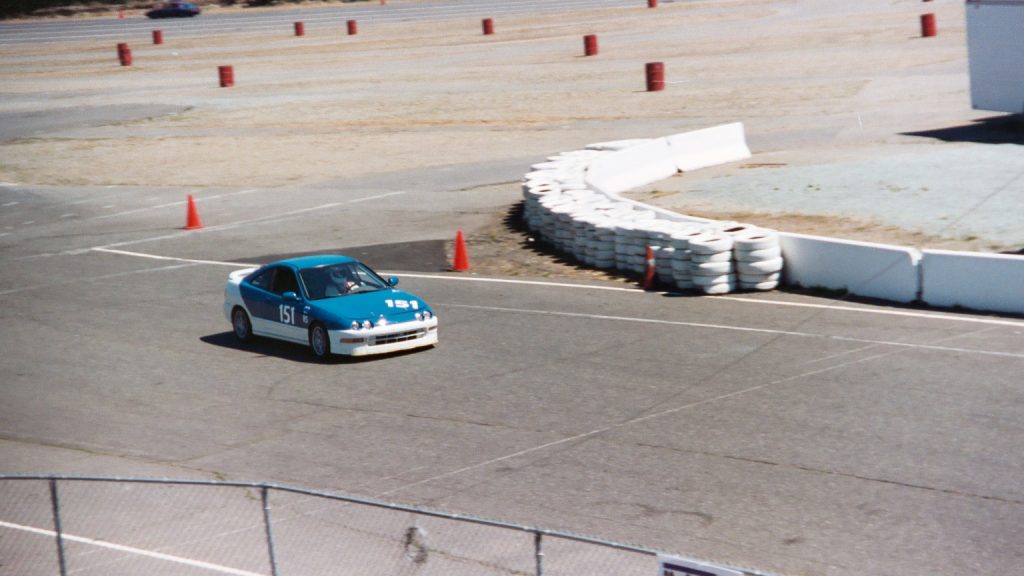 Then, with I think only 2-3 laps to go, I saw him come roaring up the inside as we headed to Turn 2. I knew what he was up to, but he braked even later than I did and successfully hauled his car into making the turn. I actually cheered his fantastic (not to mention committed) pass on me, but hung right onto his bumper as we exited 2 on the way down the hill to the hairpin. I dodged to the inside, but he was ready for that and shut the door. As we exited the right-hander and aimed for the left-hand hairpin at 3B, I stayed left with the intention of trying it again. Because I never gave up (well, sheesh, who would in a fight this fun?), I was ready to retake the lead coming off the corner as he got loose on acceleration, and then kept him behind me for the remaining few laps.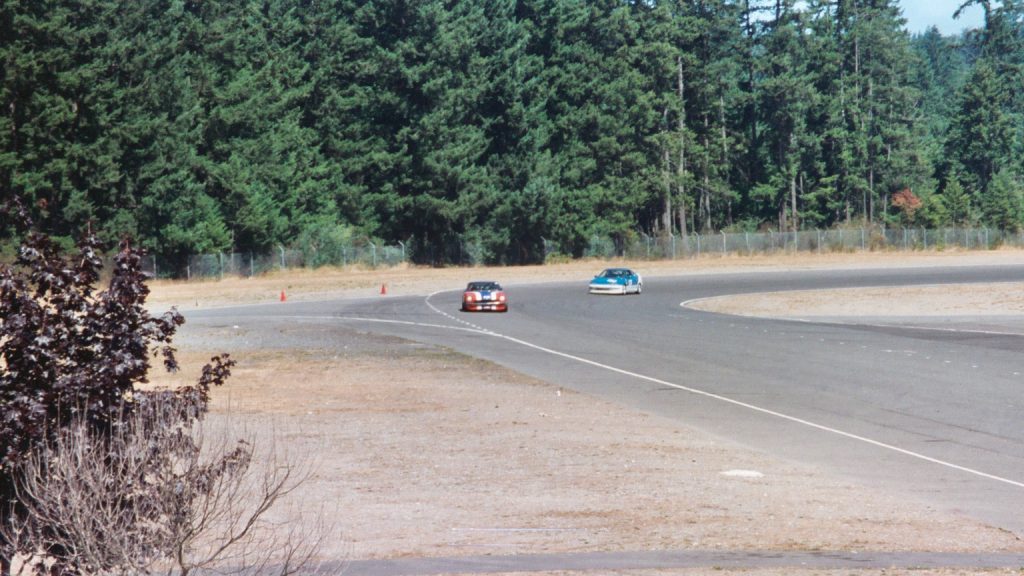 Group 1 race (CP)
Since Conference weighs the first 3 cars in each class, and I wasn't sure just how many other RS cars I'd finished in front of, I hung around in the very long lines for the scales after the Group 5 race. Despite Mike Blaszczak and me getting to "take cuts" in line (we both run in Groups 1 and 5, and were running out of time before we needed to be at pregrid for our second race), I only just had time to drive back to my paddock space, check tire pressures, retorque wheel nuts, gas up the car, gulp some much-needed water, and have a quick chat with some of the people that'd come down, before I had to head back to pregrid. Having my run groups only one group apart can be a real pain sometimes…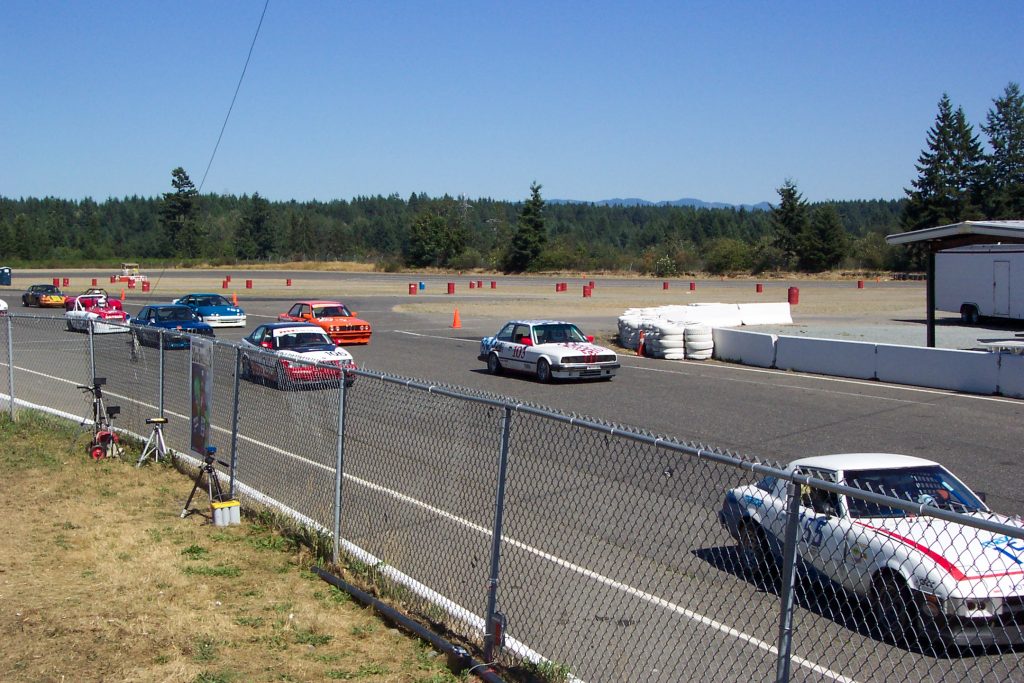 Coming around for the green flag and waiting, waiting, waiting for it, I couldn't figure out what was going on. From my position near the back, all I could see were two nicely paired-up columns of cars and I was quite surprised when they waved off the start. It was only later, while talking with Eric (who'd started 4th), that I found out why: Joel Siegel had gotten pole with his Dodge Viper Competition Coupe (just like the ones you see in the SPEED World Challenge GT races) and had apparently suffered some kind of brain cramp. When the pace car pulled for the pits, Joel just punched the throttle and took off! He got so far in front before he realized nobody was chasing him that the lead cars of the pack didn't catch up until half a lap later. 🙂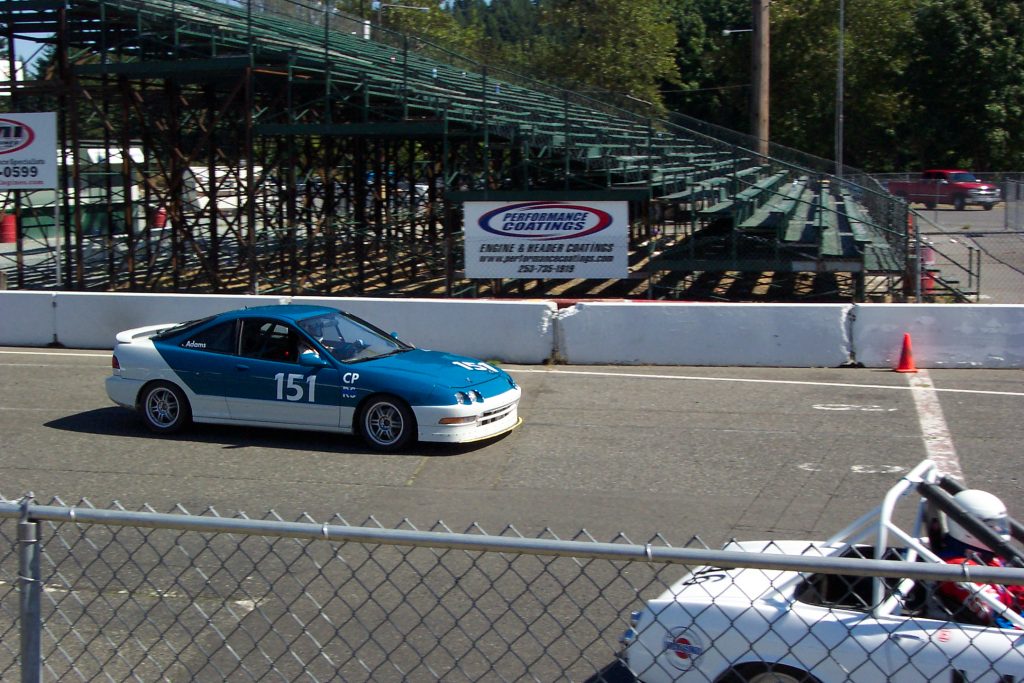 I was able to get by Guy somewhere before the exit of Turn 2 on our first "real" lap, but that was the last class battle I'd have, as Mike and the other car running CP that day were just gone after the start. Ah well. Next up were Jeff Wicks' E36, which I passed somewhere in the first couple laps, and then Bill Spornitz' E30 325, my old buddy from qualifying.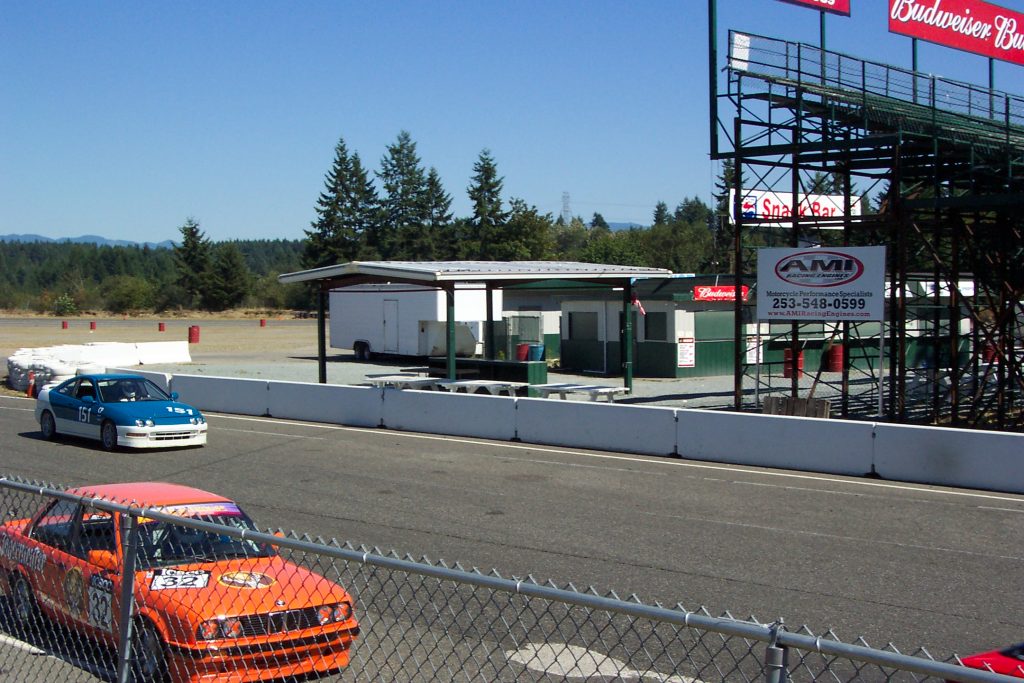 As a whole gaggle of BMWs (and me) running two- and three-wide approached the high-speed kink known as Turn 1, I caught a glimpse of a traffic cone fly toward the front of Paul Fitzgerald's blue E30. Then I saw it catch some big air (30-40 feet up) as it just destroyed his front window. I watched it fall gently at first and then seem to accelerate as it fell closer to where I figured my car was going to be when it landed. It landed a couple car lengths in front and just to the left of my line, but by then I was paying more attention to the cars scrambling to avoid Paul's now-much-slower car as he maneuvered it safely to the outside of the track, near the pit exit. His car control was all the more impressive when you consider that Turn 1 is taken flat out and at nearly top speed, and Paul's window had gone almost totally opaque. Looking at his car after the race, you can bet he was glad to be wearing a full-face helmet! (This event has since caused quite a bit of ruckus among many drivers, as it turns out that there was an astounding level of cone-to-car contact during the races that day.)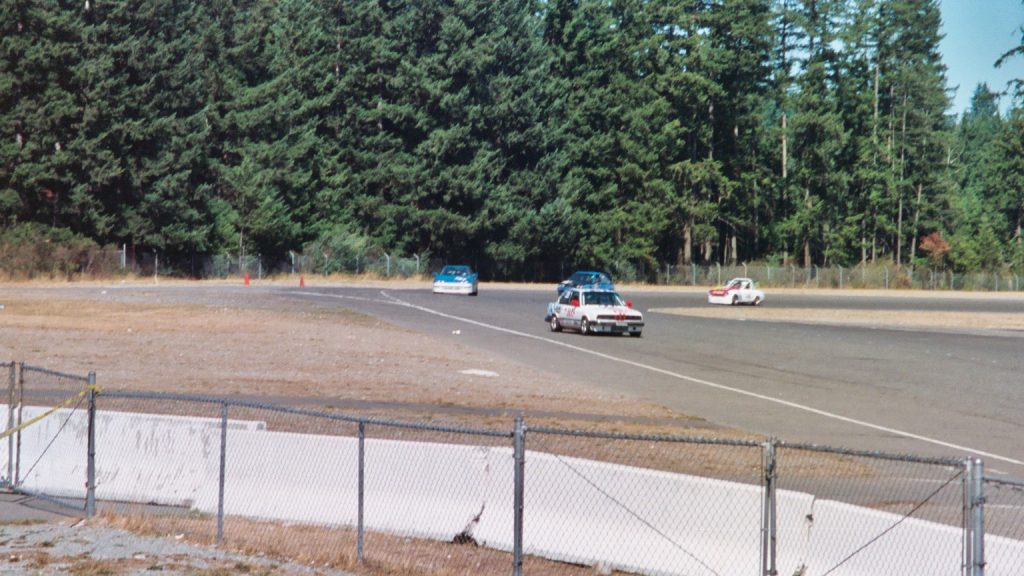 After I got by Bill, I chased down Walt Conley's PRO3 325is over the next couple laps. I got by him (ya know, this all sounds so much easier in writing than it was in real life!) and then spent the next little while trying to keep him behind me. In the course of this fight, we both caught up to John Osborne's SportBMW 325is. John's car is run by the ever-professional Kahn Team Racing and their cars are typically too fast for me to catch, but we caught up to him and I was able to get by under braking for Turn 3A. I then pulled just far enough ahead, and he started coming under fire from Walt, that that was how we finished the race. I happily cheered on the 4-way BMW battle that was going on in my mirrors, 'cause every lap they fought it out meant one less lap they'd have to come after me.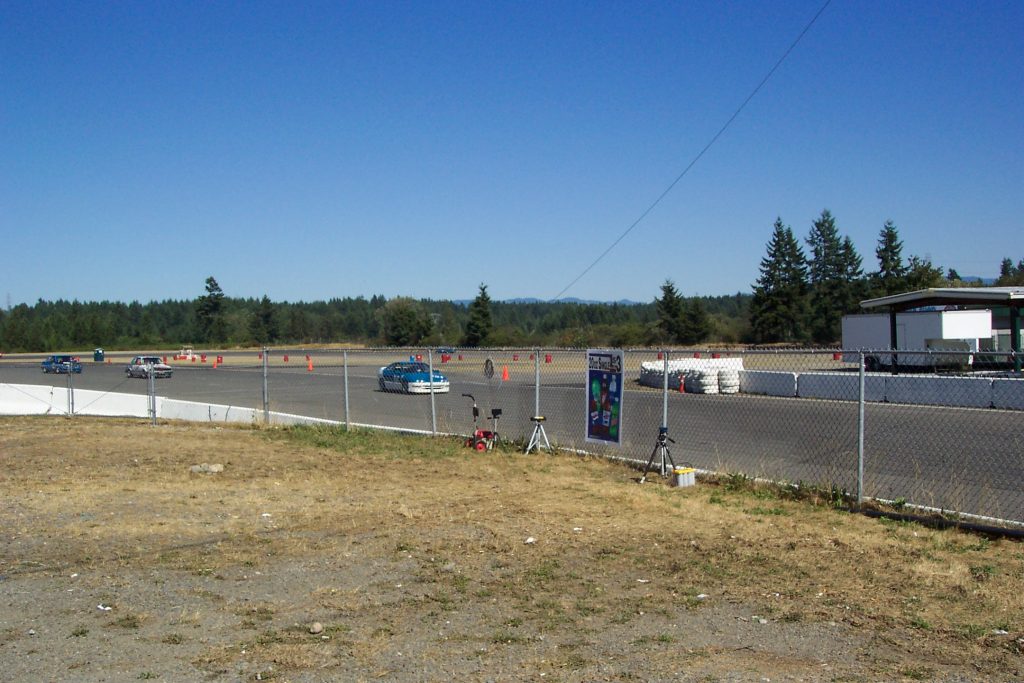 Finally, and what might seem as sort of an odd thing to celebrate, I was lapped by just the first 3 cars in the group (and only by the third of those on the last lap), which is my fewest ever at a track that sees some pretty high top speeds.