After missing one of only three races at my home track (grr…), my second race week-end of the year was a whole month after the first. It was also the one-year anniversary of my first race, but I expected to do a little better than that (<ahem>). I was also looking forward to trying out my shiny new Carbotech race pads.
Friday
Anna had decided to come down to Portland early on Saturday morning rather than in the middle of Friday's work day, so I was on my own for the tow down… which of course sucked. In contrast to May's nearly painless trip down, Seattle's "predictably unpredictable" traffic was in full effect and I found myself in the middle of a slow-moving pack of cars all the way to well south of Tacoma. It got a lot better after that, and my truck was able to pull the trailer a lot faster than I would've thought :), so the 3-hour trip only took 4 hours.
We were at the tail end of a run of hot weather, with temperatures in the mid-80s, but having the stereo, air-conditioning from time to time (might be my imagination, but it seems to rob a little engine responsiveness), and a seat I could squirm around in made for a much more comfortable trip than any of the times I drove the Integra to Portland during the hot summer last year.
The most annoying part of the trip—even more so than my frustrations with traffic, which is saying a lot—had to do with the road surface: There's enough crappy freeway paving in the area (gaps & rises in the joins between concrete slabs) that towing can be a pretty bouncy/jouncy affair, in general, but there is one stretch of road just south of the I-5/405 interchange on southbound I-5 that was so bad I almost pulled over, thinking I had a flat on the trailer. Everything was rattling around, I was bouncing all over the place in my seat, and the steering wheel was twitching like mad. Really, really not fun.
The Formula Ford 2000 national tour and US Touring Car Championship (NASA) were both visiting PIR that week-end, so I knew going into it that paddock space was going to be at a premium, but there were already no suitable places in the paddock proper when I arrived at 7pm. This meant that I ended up in the grass & trees north of the paved area. Except for maybe what it'll be like once it rains, it's great: Close to concessions & the vendor area, bathrooms, driver services, and so on. There was plenty of room for cars, trailers, and support vehicles, and it had the added benefit of being about as far from the racing area (i.e., noise) of any place within the confines of the track itself. (Anna would later decide this is where we needed to be from now on.)
I got registered, unloaded the car and ran it through tech inspection (mandatory for Group 5 this week-end), put on the dry tires for Saturday (the forecast was only for occasional showers, so I was willing to risk it), and then got the car squared away for the next day: tape over 2nd group, tech sticker on dash, tire pressures set, gas tank filled, and home-built clear plastic window inserts in for the night. (Between races, I'd removed the window glass and power window mechanisms from both doors.)
Although I'm not generally subject to hay fever, there was something in the air that caused me to experience massive sneezing fits, scratchy eyes (which turned out to be shockingly bloodshot by the time I checked them at the hotel), the whole package. Interestingly (or not, from my perspective at the time), I'd gone through the exact same crap a year earlier, although not at any other time at PIR. I could only hope I wouldn't be under the same conditions when it came time to drive….
After getting only 4 hours' sleep Thursday and a having a reasonably tiring day, I decided to make an early night of it.
Saturday
Um, yeah, so I attempted to make an early night of it but, tired as I was, it was just too noisy at the hotel for me to fall asleep quickly. Even once I did, I tossed and turned for much of the night. Ah well, any sleep is helpful, yes?
If I needed any reminding that the heat wave and associated dry weather was over, coming out of the hotel I could clearly see it had rained during the night. Checking the horizon looked like things might stay dry, at least for the morning.
I wasn't due on track until 9:20, but an infield paddock with no vehicle bridge means you can only cross the track between sessions, so planned on getting there by 8:45 or so, which would give me plenty of time to warm up the car and get changed. Somehow, though, I got there a little after 8. Eager, maybe? 🙂 Eric Krause of the Porsche 968 (formerly blue & white, now a spiffy red & white), his wife Julie, and their daughter Clara showed up a little before 9am, with Anna & Lauren a little bit after. (I had called Eric to let him know where I was parked and he was able to park next to me when he arrived late Friday night.)
As I had done all my prep work the previous night, all I had to do to get ready was remove the window inserts, retorque the lug nuts, and get the motor warmed up. I hadn't had a chance to bed the new pads before coming to Portland, so that's what the Group 1 practice session got used for. This meant that I took things really easy, following the instructions for the Carbotechs, and then got on it a bit for the last couple laps. My best lap of the session was a 1:38.801″.
With roughly 1.5 hours before the Group 5 practice (the difference between running the second scheduled group compared to the last), Eric and I walked over to the TC Motorsports paddock to talk with Carlo Sparacio about possibly joining up with the 2-car Spec Miata team they're going to run in Conference's "8 Hours of the Cascades" and NASA's 25-hour race at Thunderhill Park in California. They've got what sounds like a solid plan (they've run the enduro before) and the price they're asking for a ride is quite reasonable, based on the other rides I've heard offered.
Group 5's practice session saw the occasional drop of rain, but it wasn't too challenging. I had what I would consider an "okay" session, with a couple interesting moments (oversteer on too-cold tires), a couple missed apexes, and so on, but I worked my times down to a 1'36.771″.
After the session, and curious about my weight after removing the door glass and motor mechanisms, I went to the scales: Including me, 1/2 tank of gas, and on my dry wheels, I now weighed 2623lbs. My goal for this year in this regard is to get under 2600 pounds. A dry cell battery would probably be enough all by itself.
With another huge gap in the schedule until the Group 1 qualifying (2.5 hours!), I had time to actually watch some of the other sessions for a change. In fact, I pretty much just relaxed and socialized with everyone. Nice.
The sky had been looking a bit spooky off in the distance for quite some time and it finally started to rain on pregrid. It wasn't a real downpour, more of a steady, light rain, but it was more than enough water to get all of us running on dry tires (i.e., everybody on the grid) pretty squirrely once we were let out on track. I had a few anxious moments on the first lap, but that was due to pushing too hard on cold, wet tires. Although it never stopped raining completely, it slacked off enough that the dry line started to show and I had enough time near the end of the session to get in what felt like good, hard laps.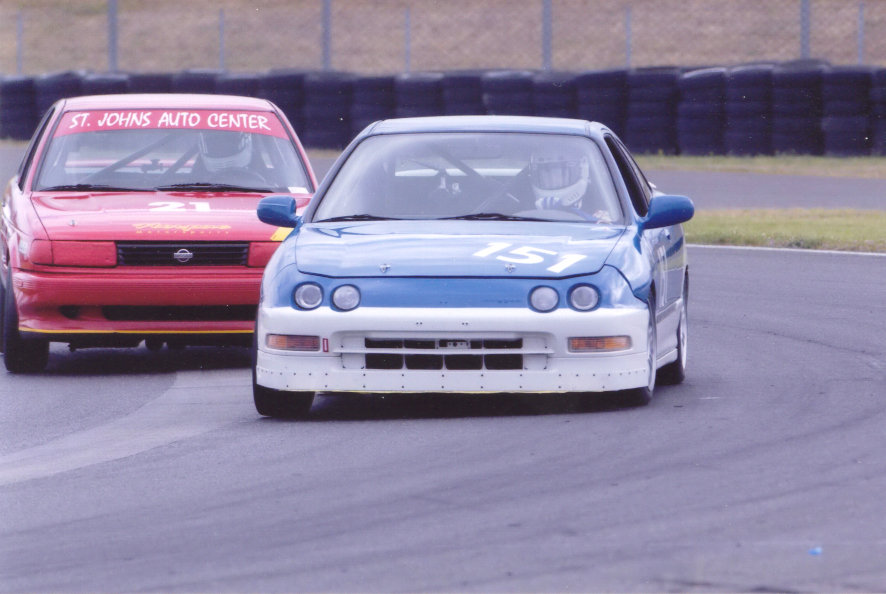 Sure enough, the timing sheet for that session showed I had run a best of 1.35.571″, over 5 seconds quicker than my best time for this course configuration last year. More importantly than a best-ever overall qualifying position (15/30) was finishing ahead of Guy in a head-to-head session for the first time. Even better still was that I was a mere .088″ behind Mike Blaszczak, far and away the closest I'd ever been to a car & driver that are both faster than me. (I'm usually a half-second off Guy and about a second behind Mike.) The absolutely very best part, though, and one that Guy and I would later say we each hoped would be true come Sunday morning, was that this session could result in the whole CP "field" starting nose to tail and covered by little more than half a second… cool!
About an hour later, and still with the adrenaline buzz of my Group 1 results, I went out to qualify with Group 5. This time, the track started wet and stayed that way for the whole session. Even so, I finished with a preliminary position of 18/43 overall and 4/13 in RS. A really good result, but tempered with the knowledge that 7 cars didn't run the session, including 3 RS cars, two of which have been faster than me in the past. On the other hand, there were two RS cars ahead of me that I beat during May's race, so you never can tell.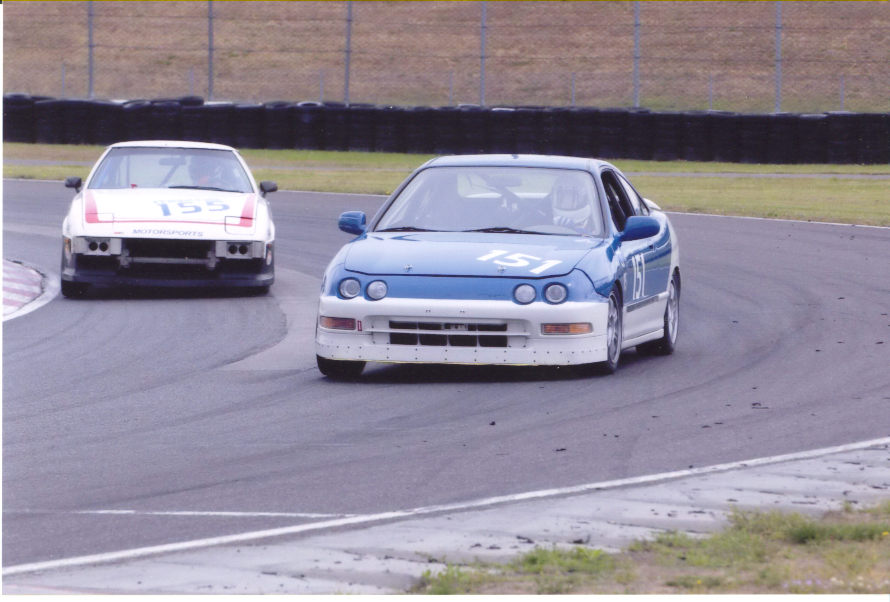 I tidied everything up for the night—including emptying a fuel jug into the car and taking the empty with me, to make sure I had enough gas on hand this race—and then Anna, Lauren, and I went off to the chicane to watch the Novice Closed Wheel race (my group from my novice days) and the first of the Formula Ford 2000 races.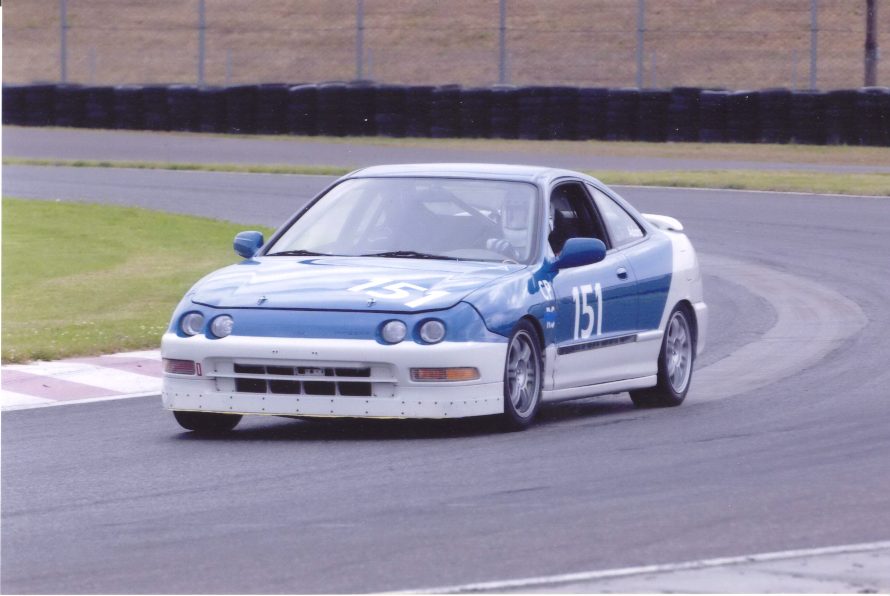 The NCW race was really entertaining, featuring a solid race between two Spec Miatas (one of which repassed the other under a full-course caution; bet he got a good talking-to after the race!) and the crowd favorite, what appeared to be a basically stock mid-80s Honda Accord sedan that had my old "330" number. The FF2000 race had the potential to be quite a race, but an unfortunate pile-up in Turn 2 on the first lap put 3 cars out and dropped another well back in the field. There was some good racing, made more interesting once it started to rain and braking for Turn 1 got to be more of a challenge, but there were only two really good race-long battles: One between the car that had slipped back at the beginning and someone running last (but who finished not-last) and the other between a small-budget driver and one from what appeared to be a very well-funded team of 2 or 3 cars.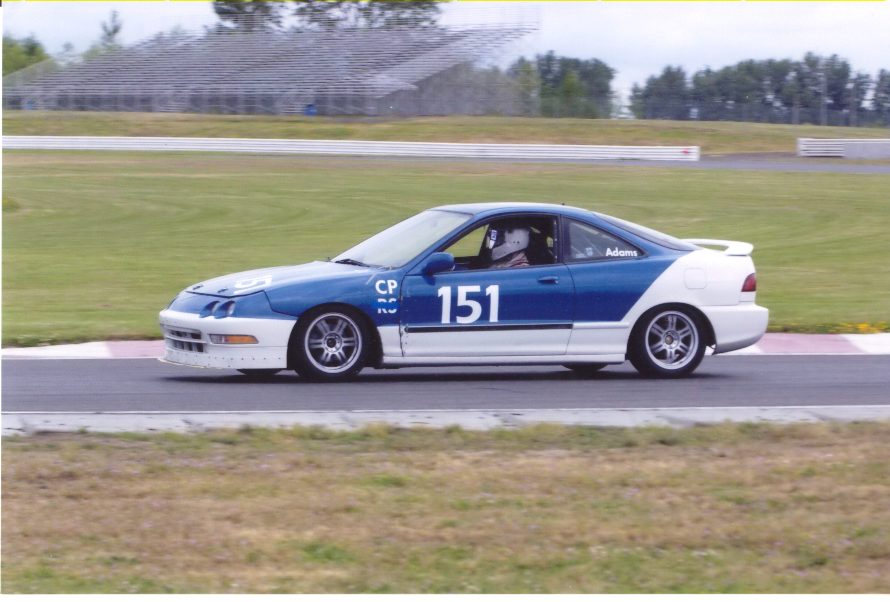 Sunday
As the weather forecast predicted, Sunday started out wetter than Saturday. Even more, uh, interestingly, the forecast also predicted rain showers all day long, with the possibility of thunder showers. Oh, goody.
Sure enough, Group 1's second qualifying session was quite wet. I decided to run Saturday's full-dry setup for the experience, since there was absolutely no chance anyone was going to improve on their Saturday time. As expected, the car was loose, loose, loose. Even going slowly and carefully (as most everyone was), I was slipping and sliding all over the place to the point I finally decided to come into the hot pits to sit for a few laps. Unfortunately, I totally blew by the place you're supposed to stop and got myself a mild scolding after the session. I waited for a few minutes, went out for another lap, and then decided to just bag it.
Later on, one of the USTCC guys came by on a quest for "field fillers:" Two cars had suffered mechanical problems and they needed two more Honda/Acura drivers to meet their minimum grid for contingency money. The prep level of their cars is such that they only fit in the anything-goes ITE class in Group 4, so it would give me a chance to run in a different group than usual, not to mention as part of a professional (-ish) series. He was also willing to pay my Conference late-entry fee for an additional race, so I was definitely tempted. I was even more tempted when I found out that, if I was willing to pony up USTCC's $750 entry fee, I'd be eligible for points (eh) and some of that contingency money. Considering that last place paid $350 and that I was running mid-pack times, this could've been interesting. 🙂
In the end, though, I decided that it was generally too much fuss and bother to apply all their decals, race in a new group in the rain, skip (probably) my Group 5 race, and so on. Probably a "wussy" choice, but that's the way it went.
Getting on towards time for Group 5 qualifying it was pretty clear it was going to be wet, so I decided to commit to running the day (barring major sun breaks) on my wet tires. In fact, the rain came down so hard during the session that I ran with my lights on and my wipers at their fastest setting for much of the time. I was still sliding around a fair bit, but only when I really pushed it, and hard braking for Turn 1 was surprisingly stable. The concrete surface in the chicane was especially challenging, but otherwise the car felt pretty good.
After all the doom-and-gloom weather forecasts, not to mention bucketloads of rain all morning, the sun came out with a vengeance about mid-day, leaving everyone to wonder about how to set up their cars. It was actually pretty amusing, despite the stress of wondering what to do myself, to walk around the paddock and hear "Well, wet or dry?" everywhere I went. A truly torrential downpour during the driver's meeting, just before the actual racing started and followed by a weak sun break, did NOT help the issue any.
Finally, just to make a generally unsettled day even more so, Anna decided to head back home with Lauren: Lauren had gotten another cold (for one reason or another, she usually does on race week-ends) and Anna hadn't been feeling all that well herself for a day or two, so it just seemed like the smart thing to do. This would be the first time I'd race without having them around to watch… it actually felt kinda weird, a bit like the feeling you get when you've forgotten to do something important.
Group 1 race (CP)
Although the mini-monsoon during the driver's meeting had dried up for Group 6's race (just before Group 1), I didn't like the looks of the sky to the south where the weather was coming from. After much head-scratching, I decided to go with a partial wet setup: Wet tires, boosted tire pressures, and half-softened suspension. This started to look like a really good decision once it started raining on pregrid.
The group polesitter gets to select which side of the track he wants to start from and Tom Miller must have chosen the inside, because I was also on the inside starting 15th. This put Guy to my left and Mike Blaszczak (and outside of Dale Beuning's PRO3 BMW in 13th) in front of Guy as class pole.
As we rolled out of Turn 12 toward the starter's stand, the spray kicked up by the cars in front of me—even though we were only going about 50-60MPH—made it scarily hard to see what was going on, despite being gridded in the front half of the field. Once the green flew and I could pull out of formation, I went well to the inside as much for visibility's sake as the potential to pass.
It was looking like I was going to get squeezed out as the field funneled down for the entry to the chicane, but enough of a gap opened up to my left that I was able to slide over and make it, ahead of Mike and marking the first successful pass I've ever made for class lead. The beauty of front-wheel drive and relatively low torque in these situations is that the worst thing that's likely to result from overly mashing the throttle is wheelspin (well, this can be a problem in a corner, since you also have to steer with the wheels you just started slipping), while rear-wheel drive and/or a car with a lot of torque (like, say, an E36 BMW…) runs the risk of a spin, so it tends to all average out with a slight advantage going to the FWD car. Despite following this up by leaving the door a bit open in Turn 5, I was able to keep Mike behind me pretty easily… ah, rain, the great equalizer. 🙂
I had heard that taking a really wide line through Turn 6 was the way to go in the rain which, although it meant leaving more than a car's width on the inside line for Mike to take advantage of, turned out to be a good choice for a reason other than traction: Bruce Beachman spun exiting the corner and the only really good way by was on the outside. Mike was forced to avoid to his left, just missing Bruce, but also putting him on the grass, where he lost traction and spun, eventually sliding backwards and at mostly unabated speed into the wall, but with virtually no damage. This left Mike DFL and me breathing much more easily, especially as there was no sign of Guy in my mirrors.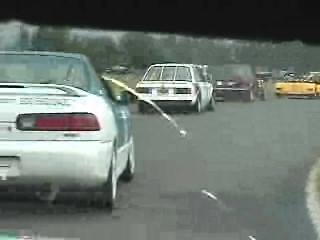 Since the last thing I wanted to do at that point was spin and give Mike a chance to come back on me, or for Guy to suddenly appear from the mist, I concentrated on keeping my driving tidy while still setting decently paced laps.
I can't remember if it was on the first lap or the second, but I also passed Eric for the first time in a race when he spun under braking for Turn 12 while dicing with an SPO car for 2nd position overall. In fact, there were so many spins by so many cars ahead of me, and my car was doing so well in the rain, that I was eventually 4th overall and gaining on 2nd & 3rd before the rain stopped after 5 or 6 laps. Sheesh… can we race in the rain all the time? (At least for groups like Group 1, typically populated by lots of torque-y, rear-drive cars.)
Eventually, though, the rain did stop and the track started to dry out. I could've lived with the minimal suspension changes I'd made, and even run just fine on my rain tires, except I had put probably 4-5lbs too much air in them, which meant that the dry pavement really ratcheted up their temps and, consequently, pressures. It wasn't long after the rain stopped that I returned to the state of my very first race, with tire pressures too high for the conditions. Of course, I'm a much better driver and more comfortable with the car than I was then, but I was still pushing the tires harder and faster than what they were capable of.
Eric had quickly recovered from his spin and got back past me once things started drying out, but he didn't drop me as he always has in the past. Maybe it was partially due to my having pilfered his brain for advice on better lines through a few corners (!), but I was still rather surprised I kept him in reach for as many laps as I did.
Starting one row behind Dale Beuning's E30 325 was the closest I'd ever been to him outside of a pregrid formation, so the battle we'd had earlier in the rain had been a lot of fun, especially when I actually passed him and found myself able to pull away a little bit. But shortly after Eric repassed me, it became clear that I was burning up my tires by working to keep Dale behind and, since were "only" fighting for overall position, I gave up that particular fight. Even though I knew it was the right thing to do, I was still disappointed, but I had bigger fish to fry: Mike's E36 325 was getting closer and closer every time I glanced in my rearview mirror.
I was already doing everything I could to keep a sort-of decent pace while fighting the tires, but I pretty much knew he was going to catch me and probably pass me before the end of the race… he was clearly getting faster the longer the track stayed dry, while I was having a continually harder time with the tires. I even "spent" some of my remaining "tire equity" in an attempt to close up to and, maybe, repass Dale in order to use him as a buffer against Mike, but I couldn't quite catch him. Every trip to the front straight showed me some significantly dark clouds approaching from the south, so I was praying as hard as I was driving for the rain to return, but Mike finally passed me just after we were shown the "5 minutes" sign, with about 3 or 4 laps to go.
Despite all the indications to the contrary, I just wasn't willing to concede the position to him for good. I really tried to at least stay with him, but it was quite hopeless: It was all I could do to keep the car under some kind of control. I had several interesting oversteer moments, including one where I thought "okay, here we go," but it never quite spun.
This left me with Dan Heinrich right on my tail, so I figured that was gonna be another position gone in a hurry. Dan's faster than me, Mike, and probably 2/3 of the field, despite running a D Production Nissan Sentra, but he never put a move on me in the final lap or two. (He later told me he'd hung back to keep from interfering with our race. I responded that, next time, he should feel free to just park it in front of Mike!)
Just to add insult to frustration, the rain returned during our cooldown lap… yeah, thanks, but a little late! Then, as a final "bitch slap" to my sense of frustration for losing the best chance I'd had thus far to get a class win, the skies really opened and it just bucketed down while we sat in line for the weigh scales, leaving me with a lake where my floorboards used to be. Feh.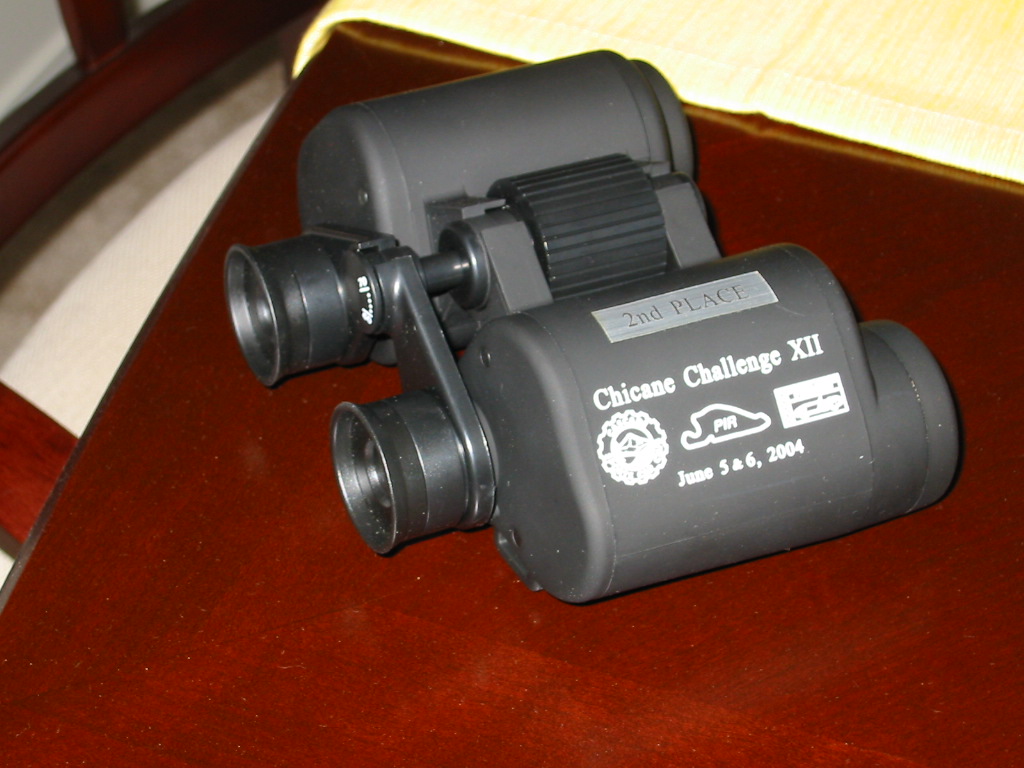 Group 5 race (RS)
Enough time passed after the Group 1 race that I was in the right frame of mind for Group 5. The good news, I guess, was that I had learned a lot about setting up for PIR in wet/dry conditions. I still went with a compromise setup, but shaded more toward the dry end of things, with hard suspension settings, wet tires (just in case!), and substantially lower cold tire pressures.
The lecture we drivers had gotten in the drivers meeting about the penalty for tardiness to pregrid (start at the back) must've really put the fear of God into me, 'cause I arrived at pregrid for the Group 5 race earlier than I've ever been in my life: In a field of 40-some cars, I was first to pregrid! 🙂
Also for the first time in my racing life, I got to experience a waved-off start. The front half of the field looked okay to me, but perhaps there were some shenanigans in the latter half? Whatever the reason, it meant that our 30 minutes of racing was going to be shortened by the amount of time it takes to lap PIR at double-yellow pace (typically, double the time it takes to lap under race conditions).
Once we did get a green flag, it was a pretty exciting race down to Turn 1. (Group 5 is slower than Group 1, but there are a LOT more cars and they tend to have much closer lap times.) Mike Yochim in his earlier generation Acura Integra could've really slammed the door on me entering the chicane, but gave me just enough room to sneak into the stream of cars. Courtesy among Acura "brothers" or just doing the decent thing? Either way, thanks Mike!
As I've mentioned on these pages in the past, I get really awesome starts about half the time, and this was no exception: I'm not quite sure where I was, but I'm pretty sure I had made it into the top 10 after the first 3 or 4 corners. Looks like the setup was proving to be good, at least in the early going.
I had slowly been gaining on Taryn Sparacio's Spec Miata and finally made a decent outbraking move on her in Turn 10, but she got it right back when I had trouble shifting into 3rd coming out of Turn 12 onto the front straight. Although I have a good bit more horsepower than a Spec Miata, losing all that momentum entering the straight will pretty much kill you if you're anywhere close in performance to the other car.
I was able to stay right with her down the straight, but again had a hard time shifting into 3rd exiting the chicane, which cost me another position. And so on for the next 3 laps or so, as I lost more and more positions exiting Turns 3 and 12.
It quickly became clear that I was going to end up with a crappy result—and my ABS light came on, too, just to make things interesting—so I pulled into the pits on lap 12 and drove back to my paddock space, one very frustrated boy. Of course, what I should've done was to park it in the hot pits until the checkered flag came out and then driven across the line from the pits: This would've gotten me 14 points for 9th (last in class that day) instead of the 3 points for a DNF. 🙁 I'm running few enough races this year that losing those points doesn't really matter for the championship, but still….
The culprit? Turns out there was air in the clutch line and the fluid was old, old, old. Looks like "someone" forgot about the clutch when bleeding the brakes last time.
And that's how my week-end ended: Much promise shown at the beginning of both races, but less to show for it than usual. As they say, that's racing. <grumble>I guess.</grumble>