"I'm just keeping my license current" is a terrible reason to go racing…
Friday
Once again, having an enclosed trailer AND the space to park it next to house meant that I was able to load the trailer during the week, leaving the simple process of hooking truck to trailer, loading the race car, and heading south to the race track once I knocked off work Friday.
The unique twist this time was that I'd be picking up a rental truck that morning: earlier in the year, after looking back a few years at how little I'd been using my truck and looking ahead at a similar light level of use, I decided the smart move was to sell it while it was still worth something. I could rent a tow vehicle when I needed one and, once I started racing regularly again, I could buy a new truck. About a month before the race, I called a local truck-rental place about getting a pickup capable of towing 6500 lbs. No problem reserving a Chevy Silverado 2500 HD with brake controller, the same as the truck I'd just sold.
Friday morning, about 30 minutes before I was scheduled to pick up the rental, they called to confirm if I still wanted the truck… uh, yes, I did, and I was getting ready to come pick it up. Slight problem: the truck I'd reserved a month ago was suddenly unavailable and they'd be giving me a flatbed of some sort. Thankfully, not one of those big flatbed tow trucks, but basically a heavy-duty pickup truck with a solid, no-sides bed. I wasn't happy about the situation, but I figured I'd go check things out. After all, as long as it was capable of towing my trailer and I was capable of driving it, it was bound to be better than not being able to go racing. It was even going to run me about $10/day less than the pickup.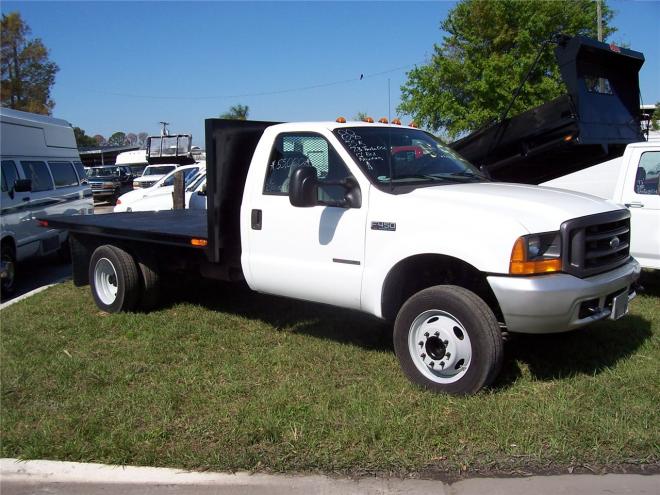 Upon seeing the truck itself, I had my doubts, as it was both ungainly-looking and beat to crap, as you would expect with a rental truck that's probably typically used on landscaping jobs, constructions sites, etc. Still, it had a honking big Triton V10 and all the trailer-related add-ons, and it's not like I had a lot of options, so I signed the papers and drove home. Two things became immediately apparent: the truck was both low-budget and as beat-on as I expected. On a day expected to get into the low-90s, the truck had no air-conditioning, AND the vent system was either all the way on or all the way off. What's more, whether it was the suspension or the steering rack or something else, the truck was all over the road. I could barely manage to stay in my lane with just the truck; trying to do so with a trailer that takes up most of the width of the lane wasn't an idea that filled me with confidence. Again, though, it's not like I was overburdened with options.
Once I got it home, I discovered another challenge: because of the big steel cab guard (or whatever they're called), I had no visibility over my shoulder, which meant I was ONLY going to maneuver to the trailer by using the mirrors. Okay, fine, whatever. The next challenge was in learning that I would, in fact, need to rent the hitch they'd offered, as it turned out mine didn't have enough drop to handle the location of the receiver on this particular truck. Great, sure, just another little hurdle to overcome. Back to the rental place (in my comfortable and well-handling car… oh bliss) to pick up the hitch, then back home to see if my low-slung car trailer would work with the new hitch. Yea, it did, so now I was ready to consider this irritating portion of the day over, right? Well…
After getting the truck and trailer physically connected, the next step was to plug the trailer's wiring harness into the trailer plug on the truck. The first thing I noticed when I went to plug in was that the male end (on the truck) wasn't actually secured in its housing. Although that was easily resolved, it also meant that I didn't have a simple way to judge the orientation of the round plug and, therefore, which prongs on the plug should connect to which. I twisted and turned the plug coming off the trailer to try every combination of connections, but no matter what I did, I couldn't ever get both the brakes and the correct set of trailer lights to work. With no confidence that the wiring was going to be correct, and a steep descent when towing from my house, I called the rental place to let them know that I was bringing the truck back so they could troubleshoot the issue.
As it happens, not two minutes after I went into the rental office, the people who hadn't returned the truck I'd reserved pulled into the lot. I didn't realize who they were, but the lot guy, when told by the counter guy to pull "my" troublesome truck to the back so it could be tested, suggested that he just prep the newly-returned truck so that I could have the truck I was always supposed to. A half-hour later, I was finally back home with a tired and well-used, but still dramatically superior (working A/C!), Chevy Silverado.
The "tired and well-used" aspect became even more obvious when I hooked up the trailer to the hitch: despite the fact I didn't even have the car loaded, the back of the truck kept getting lower, and lower, and lower as it took the weight of the trailer. It's essentially the same heavy-duty truck as I used to own, but apparently the extra miles (roughly double) have all been on the original suspension.
Several hours later, after wrapping up work for the day, I'd pulled the truck/trailer combo out to the curb so that I could load the car, the last step before heading to the track. I had just finished strapping everything down in the tremendous heat (over 90° at that point) when I got a call from Eric at the track, where he was participating in the pre-race Test 'n' Tune to sort out his Porsche 968 and its new Chevy LS1 V8. Turns out, after a couple solid runs earlier in the day, his third session ended in something of a fireball as a quick-connect fuel line separated from the fuel rail. The car was mostly saved (the engine compartment and related areas significantly scorched), but his week-end was… toast. (Sorry.)
Once on the road and dealing with the usual Friday afternoon traffic, I'd gotten as far as south Bellevue when I realized I hadn't taken the car out of gear after strapping it down. That can be pretty hard on the transmission, so I pulled off at a Park and Ride to take care of it. As I walked back to the trailer door, I became aware of just how low the front of the trailer was. So low, in fact, that the chains and trailer wire were actually sitting on the ground in the parking lot. A quick look confirmed that I'd managed to scrape off all the rubber wrap along one side of the wire, but thankfully hadn't gotten to the insulation on the individual wires themselves. Some electrical tape and a repositioning of the wire and I was good to go.
The rest of the trip was uneventful and I even arrived at the track to find plenty of space where I wanted to set up, along the row of trailers that leads onto the road to pre-grid. The unload went smoothly, including using the much-improved design for attaching the nose for the first time, but registration was waaaay down at the other end of the paddock instead of its usual spot about 60 feet from where I'd set up. Well, walking is good exercise, right?
The only real challenge of the evening (after the "fun" with the truck, frankly everything seemed like smooth sailing) was in getting my car and gear through tech inspection. Tech was supposed to be available for at least an hour after I started looking for the roving inspector, but he seems to have left the track about 15 minutes before I started looking. Thankfully, Race Steward Bob Mearns was kind enough to take care of things for me, which checked off one more item from the list of race week-end items I was still trying to remember…
Saturday
I arrived Saturday morning to find that, despite there being TONS of available spaces all around the paddock, some guy had parked his ginormous Class A motorhome and trailer at the front end of my trailer. Until such time as he decided to pack up on Sunday, I would be trapped and unable even to hook up my truck to load the car, much less leave. Who does that?
Because I wasn't doing either of the non-points "for fun" races in the afternoon, nor the mini-enduro, the two 15-minute qualifying sessions I was doing in the morning constituted the entirety of my track time for the day. Since Group 4 was the first group on track at 9am, I would actually be done by 10:30… although I needed to stick around until the mandatory driver's meeting ended around 12:30. Weird day.
(After years of drivers complaining about the lack of track time on race week-ends, the leadership of Conference granted the Clubs some latitude in how they run their races. IRDC, the host for this race, had instituted these "fun runs" as an opportunity for attendees to run more races in a week-end. While that's all well-and-good, I personally don't see the value in risking myself or the car in races that matter even less than any of our amateur races matter. I'd rather see us practice and qualify on Saturday, then have another practice session and 50-minute races on Sunday. You know, like most professional road race series.)
Anyway, as this tiny amount of track time was going to be my first time in the car in more than two years, and only the second time on this track other than a test day in September of 2012 (shortly after I took delivery of it), I decided to treat the qualifying sessions as practices and focus on my lines, gear selection in a few corners, and tire pressures. It was also my first time on the new pavement that started around the apex of Turn 7 and extended through the exit of Turn 8… the last of the original pavement from 1959!
I was definitely a bit rusty, but not nearly as much as I'd thought I'd be. I did catch some grief from one of the pre-grid girls about the cobwebs in my car… how embarrassing, and I'd even made an effort to clean things up beforehand! On track, two things immediately became clear: 1) the entry and exit lines through Turn 8 were going to require some serious thought on my part, and 2) I was going to be spending a lot of time determining which gears to use in Turns 2, 3A, 3B, 5A, 6, and the aforementioned 8. Sheesh.
Whether it was the different tire pressures in my crusty, 2.5 year-old Nittos than what I'd used before (some research indicated I should be going for much lower hot pressures), the gear selections I eventually settled on, or simply knocking the rust off, I was extremely gratified to see my lap times drop progressively over each lap of each session. In the first session, my "hot laps" worked their way from a 1'50.1″ down to a 1'44.0″, while the second session started with a high of only 1'43.8″ and finished with a 1'41.0″. Still about 3 seconds slower than where I probably "should" be, but I was really quite pleased, all things considered.
The one thing making me twitchy was an indicated oil temperature that was about 20° higher than what I was used to for the BMW S54B32 I'd had in the M3, and it'd been so long since the Portland race in 2013 that I couldn't remember what was normal for the Civic's modified K20A3.
On the other hand, the potential for this being a problem that would force an early departure prompted me to go over and talk to the dude with the Class A who'd boxed me in. Scott Twomey turned out to be your typically friendly, easygoing Conference racer who was more than willing to reposition his setup should I need to leave early. (He was shocked when I pointed out where he'd parked; evidently, when he pulled in the night before, he'd somehow failed to notice the situation.)
Sunday
Sunday, at least, followed the format I've gotten familiar with over years of racing with Conference: qualifying in the morning, racing in the afternoon. I was now treating the qualifying sessions as such, but I was still fiddling a little with tire pressures, making the last couple decisions on gear selections, and basically trying to find as much speed in the corners as possible. Ultimately, I'd scrape another second off Saturday's times, so I was pretty satisfied, even if I would've preferred to be a couple seconds faster.
I did conclude that the oil temperature I'd seen was fine, as both of Sunday's morning sessions saw the oil gauge rise to the same number as on Saturday and stay there. With synthetic oil in a racing-appropriate weight, the higher number compared with the M3 was evidently the "new normal." This was a big relief, as I really wanted to run the races, even if I was unlikely to be competitive.
Group 4 race (ST)
The Group 4 race was the first group after the mandatory drivers meeting, but that thankfully ended a little early and left enough time to check over the car, suit up, and head down to pre-grid early enough to avoid a penalty. Several years ago, Conference changed the rule about when the "5-minute warning" occurs, so now not only does it happen more than 5 minutes in advance of the race start, but it's different according to which track you're at. It's 9 minutes at Seattle and arriving late to pre-grid means you're sent to the back of the field.
Did I mention it was really, really hot? And I'm wearing a whole lot of clothing? With no exposed skin to help radiate the excess? Ugh. Thankfully, and I've somehow not done this in the past, I took a cold bottled water with me in the car to pre-grid. Being able to sip that thing while I waited for the session to start was so nice, and the workers there were happy to take my empty when I was done.
What was actually a bit less nice, for someone who had only raced one other time since October 2011, was the surprisingly large number of people who were late to pre-grid and were going to start from the back, including a significant number of cars who'd qualified near the front. Instead of a leisurely race start from pretty much the back of the grid, I was going to be starting mid-pack and with some REALLY fast cars (with really frustrated drivers?) wanting their way back to "the sharp end" in a hurry.
And that pretty much defined my ST race that day: much as with the Group 4 race at Portland in 2013, I'd be driving pretty much as hard as possible with one arm almost dedicated to pointing by faster cars. Not a fun way to spend a hot 30 minutes, especially when you've got nobody to race against.
As with so many things, though, there was an "on the other hand," in that I managed to not be the slowest car in the group and there were cars in the group that didn't lap me… both very unlike that race in Portland. Better still, and more importantly, was that I was able to keep a pace in the corners, including the fast ones, that was nearly as quick as the fastest cars in the group. This means that, for the most part, it was only other cars' superior horsepower that allowed them to blow my doors off. In other words, I was using most of my car's potential, despite my lack of experience with the car and general race rustiness.
Group 1 race (SPU)
Again I made extra-sure I got to pre-grid on time, again I brought cold water with me… and again there were a bunch of people late to pre-grid. Not as many from in front of me as before, partly because I'm a lot closer to the front of the field in Group 1 than in Group 4, but still creating a situation where I'd have to keep eyes on my mirrors at the start more than usual.
Some of those gaps were caused by missing PRO3-classed BMW 325s, and at least a few of those probably weren't coming back to a race grid, ever, due to carnage in Saturday's "fun" race for Group 1. I've always been super-aware of the PRO3 cars in Group 1 because, with my M3, I would always lap a significant portion of the class. Now, with my Civic, I tend to be amongst them from start to finish. On paper, the Civic should be faster than all of them, or at least all but the top 3 or so, but I'm still not up to what the car's capable of doing and so I try to stay out of their battles as much as possible.
The only other car I cared about was the other SPU guy, and he was qualified way behind me and 4 seconds off my pace. Barring problems, I'd have my second class win in as many outings sewn up. Again, on paper…
Things got off to a weird start on the pace lap. As I went by the "splitter" (the person whose job it is to stand in the middle of the track and direct each car leaving pre-grid to one side of the track or the other, splitting us into two columns for the rolling start), I noticed that the PRO3 cars in front of me were pulling away. This happens a lot in some groups, as some people go haring off after the pace car to join up in columns and discarding the opportunity to scrub tires, warm up brakes, etc. It's nothing to be concerned about, as most of the field (and other groups I've run with) typically doesn't join up until the back stretch/Turn 4 at Pacific Raceways, sometimes even as late as Turn 6 or 7. So I went about my business and worked on warming up the front brakes and a small amount of tire scrubbing, while keeping an eye open for the eventual stack-up exiting Turn 3B onto the back straight. Imagine my surprise coming onto the back straight to see the back end of the car gridded in front of me just disappearing around the corner in Turn 5A!
Now, I've driven the pace car at Pacific a few times, and I very clearly remember being told that the average pace for closed-wheel cars should be 40 MPH (60 MPH for formula car and sports racer groups), so the pace car was clearly proceeding at a rate significantly beyond even 60 MPH. In fact, things were so out of bounds that, after the PRO3 car behind me raced up next to me, frantically waving me forward, even ratcheting things up to near race-pace wasn't sufficient to catch them. We were cresting the hill in Turn 7 when I saw the last cars in what was now the front half of the field exiting Turn 8, and I was just exiting Turn 9 when I saw them take the green flag most of the way down the front straight.
(I talked with the stewards afterward and they confirmed that the pace lap was crazy-fast and I hadn't done anything wrong. That's a good thing, I guess, but I still feel badly about unintentionally gapping about one-fourth of the PRO3 field from the rest of their class. Perhaps they can blame the PRO3 driver manning the pace car that week-end…)
The PRO3 car who'd passed me on the pace lap (a big no-no, but I can understand his frustration and I certainly wasn't about to say anything) led me into Turn 2 just as the PRO3 cars in front of us were exiting it, so we weren't all that far behind the pack once it mattered. Not wanting to cause any more "trouble," and with essentially nobody to race with, I settled in to run some laps and watch the PRO3 battles around me. This was fine for the first lap or so, until I was the 2nd car "on scene" when a PRO3 car lost it exiting Turn 6 (not even the first car to do so this week-end) and went up the hillside that parallels the track on the left, just managing to avoid rolling onto its roof (as happened to a Honda CRX in another group).
At that point, I looked ahead and behind and concluded that, while the cars behind me were dropping back, the cars in front of the PRO3 I was tailing were beginning to draw away. As I said, I don't want to mess with anybody's race when I'm not in a battle of my own (and even then…), so I tried to just stay close behind without causing him concern that I was going to dive-bomb a move, intending to give him the time and opportunity to chase down the cars in front. That got pretty boring after a few laps, especially since he didn't seem to be making any progress moving forward, so I decided it was time to get past him and run a more natural pace for my car.
I made a run on him at the start of the next lap and got right up behind him going down the front straight (I don't have quite the initial acceleration, but I'm faster on a straight, assuming we get roughly equal launches out of a corner), only for him to get really squirrely going through Turn 2. I probably could have gunned it past him on the inside, but the phrases "low-percentage move" and "what would be the point, dummy?" ran through my head pretty quickly, causing me to back off and give him space to recover. Once he did, I tailed him to the back straight and right onto his bumper. He gapped me a little going through the generally-scary Turns 5A and 5B (my rustiness and lack of familiarity with the car making me just a touch cautious), but I caught right back up going into the repaved Turn 8. We both took the traditionally wide "PRO3/Spec Miata" line through it, carrying good speed and keeping the rev's up, and this in turn let me just motor on past him as we exited Turn 9 and headed toward the kink (or Turn 10, if you wish).
After that, I was able to pull away pretty quickly, settling into what I thought would be a boring little "all by myself" race for the remainder. However, the buzz I thought I'd heard for the last three laps (or, probably, actually heard and was wishfully trying to ignore) suddenly became a full-on roar with a noticeable loss of power. I wasn't sure at first what the noise was so I backed way off and ran at probably 50% pace for another lap. The gauges were okay, I didn't see smoke or smell anything, and everything else seemed to working just fine. No trails out the back of the car, either, but the car was just obnoxious to listen to and had no pace at all.
At this point, it was pretty clear that, with the race not even half over, the situation was no longer worth pursuing. I pulled into the hot pits the next lap and asked one of the workers if my exhaust was hanging down: sure enough, he said it had separated about halfway back. (Another one of the workers also said I'd left a puddle of fluid on pre-grid, which didn't help my mood at all. Turned out she was wrong, though. One less bit of drama…) I drove down the escape road to return to the paddock, hot, frustrated, and with a car that sounded like a Soviet-era farm tractor.
Just showing up, not wrecking myself or the car, and having a good time was all that was required for the week-end to be a success, but coming so close to having a "2-for-2" record in SPU, only to have an easy win turn into a DNF… very frustrating.
(Amusingly, a rule change from a few years ago—that I voted against—means that I technically won the class: the other car who qualified didn't actually start the race and I completed more than 50% of the race laps by the overall winner. So, for the first time ever, I get full points for the week-end, with a pole and a win for a race I didn't actually finish… but I still think it's a dumb rule.)