Well: Even with pretty modest goals for racing in 2013, I raced a lot less than I'd planned. I guess, if the way I'm wired continues to cause me to put racing after all my other obligations, I shouldn't let this surprise me every season…
Looking back at 2013
My intentions went from doing a race or two plus an enduro, to doing the maximum number of races that count toward a championship, to doing the maximum number of races I could do in the fewest number of week-ends, to racing two or three week-ends that included at least one multiple-race week-end plus an enduro. My reality was… one freakin' race week-end. In that sense, pretty disappointing.
You know what else is disappointing? Even with the hotter cams/rockers and the new header, 205 WHP for a 2350 pound car is just not enough for the ST class. It might be enough to dice with some of the slower/heavier cars that used to fill out the ST field, but the current crop of ST cars just puts me out in the weeds. For that matter, any track that's even vaguely horsepower-based means I'm going to be driving my pants off just to limit the number of times the entire Group 4 field laps me. Seriously, that is not fun, but I've got nowhere else to go if I want to continue entering a second run group for the additional track time.
On a more positive note, the car is simple, apparently reliable, and reasonably fun to drive, although a lot more work than what I'm used to with a very stiff manual steering rack and no ABS. Referring again to the "driving my pants off" comment, I suspect it'll also do a lot for my overall skills when I eventually (I hope) move back to a more powerful car.
Finally, on a pretty depressing note, this is what happened to my old car in its second ICSCC race: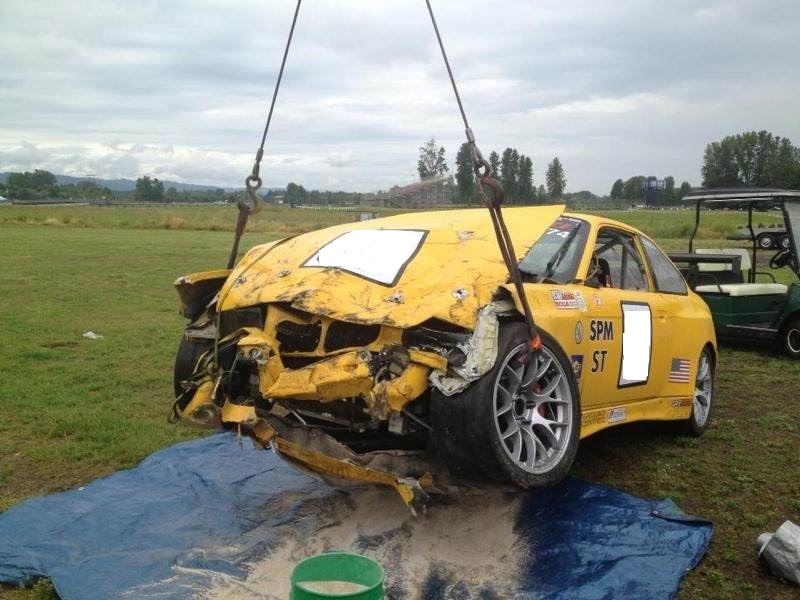 The new owner was unhurt, but the car was broken enough (yes, the front of the car now lines up with the front axle) that he bought a PRO3 car rather than repair "mine." Sad.
Looking forward to 2014
I suppose Goal #1 is to simply get the damn thing out on track more often, yeah? Aside from that, my goals are to win as many SPU races as possible, work on being faster than the PRO3 BMWs in Group 1, and do an enduro again. And, really, given my track record on "next season" intentions, I should probably just leave it at that.