One of the biggest shortcomings I've always felt I have as a racecar driver is my discomfort with an "oversteer-y" (loose, tail-happy, etc) car. It's not that I haven't generally been able to handle the situation when it crops up, but more that A) I don't have a lot of confidence that I'll react appropriately or quickly enough whenever the rear of the car wants to overtake the front, and B) I'm not comfortable enough with that type of handling if I'm in a car (or situation; e.g., rain) where oversteer is a constant challenge but I still need to put out some good speed.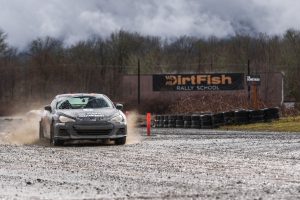 So, with all that as my justification (we'll come back to that later…) and, uh, nothing whatsoever to do with the idea of Having Some Fun, I signed up for the one-day, rear-wheel drive class at DirtFish Rally School in Snoqualmie.
(One of the big reasons I hadn't gone to DirtFish before was that I'd thought their classes were pretty expensive considering what you'd be doing, but I later realized that, since you obviously aren't going to be driving your own car on the course as you would for an equivalent road-course class, a fair bit of the cost is actually the inherent car rental. Viewed that way, their classes are pretty reasonably priced.)
The day
It being mid-March in Washington state, and after nearly a week of sunny and unseasonably warm temperatures, OF COURSE it rained like cats-and-dogs the day before and the day of my rally class. This was perfectly fine with me, since I figured the more slippy, the better, but it made footwear a bit of a challenge: what do I wear that "respects the mud" but also gives me good pedal control? In the end, I decided to just sacrifice a pair of Vans and deal with the clean-up later.
After some really bad navigation from Waze (okay, yes, it took me to the part of the DirtFish property closest to my house, but that was diametrically opposite to the part of the 350-acre facility I needed to actually be), I arrived just in time for the 8 AM start of class. There were seven of us, including myself and two women with a lot of road-course racing experience, three guys with some "driving experience" backgrounds, and one woman who'd never done anything like this before.
From here on out, this is a mix of remembered conversations and my potentially poor understanding of what I was being taught. I'm describing it in the context of first-timers and I also imagine there's a good deal of nuance in advanced situations I'm leaving off, so heads-up. 🙂
The classroom
The first part of the day was a 30-minute classroom session where we went over a lot of information I already knew, like terminology, lines through a corner, and so on. We also talked a fair bit about vehicle dynamics and how to use the tools of the car (such as left-foot braking) to change weight balance, effective traction, and so on. Of course, it turns out that most of my instincts from years of pavement driving are either wrong or even opposite to what you need when driving on gravel and mud…
The final topic of discussion was a description of the two methods we'd be using to put those weight transfer discussions into practice on the course: Lift-Turn-Wait and Lift-Turn-Brake.
Lift: Once you're ready to begin a corner sequence, the first step is an aggressive lift-off from the throttle. Just as it does on pavement, this very quickly shifts the balance of the car from the rear wheels to fronts. While doing that on pavement dramatically increases the chances the car will oversteer, on gravel it pretty much guarantees it.
Turn: Turn the steering wheel for the apex of the corner. Because the weight balance has shifted forward, the steered tires have a lot of impact on the car's direction, while the unloaded rears try to continue in the direction they were already headed. Congratulations, you're now sliding sideways into the corner!
Wait: This is the part of the procedure where, in the midst of a lot of drama in the vehicle dynamics department, you have to remain patient while the car slides into the desired orientation for the middle and exit of the corner. In a sense, this is the "training wheels" version of what we were going to be doing, since you're relying entirely on the lift-off weight transfer to do the work of beginning the slide. That said, and being a novice at this "driving on dirt" thing, I can still envision scenarios where you'd want to use this approach.
Brake: If the big throttle lift-off wasn't enough to shift the weight balance onto the front wheels, you can also use the brakes to shift the balance forward — and hold it there for longer. You still have to wait for the car to orient itself for the corner approach, but you're causing it to happen more quickly than simply waiting for physics to do its thing. (Using the brakes as part of managing the weight transfer also becomes necessary once you're carrying enough speed into a corner that you need use the brakes to, you know, slow down.)
The course
The class was split up into two groups (the two women road-racers were paying extra to be in the car full-time, while the rest of us took turns in shared cars) and I was in the second group. Although this let me see things from outside the car before attempting to do it myself, I don't think that was generally any advantage in my particular case. Not having to constantly adjust the seat harness between runs would've been nice, though.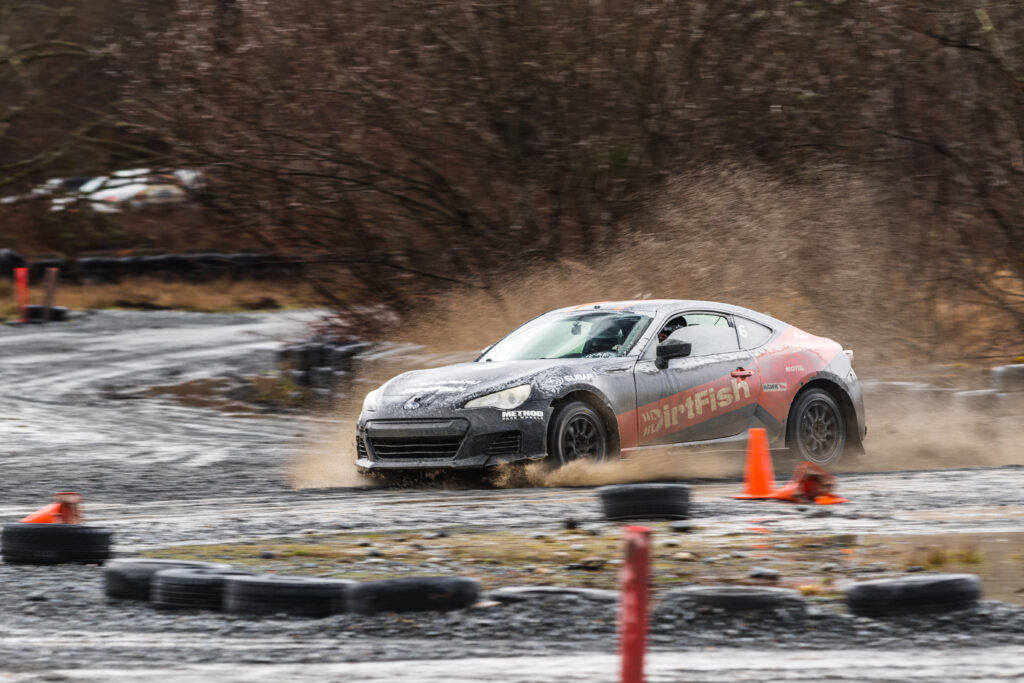 The Skidpad
Our first station of the day was basically a large gravel rectangle with four corners for learning our L-T-W and L-T-B skills. The instructor demonstrated both techniques over a few laps and then we swapped seats. My first thought was this skill would be much harder to learn on pavement (even wet pavement) than on gravel… it takes very little effort to get the car to slide, although you need a fair bit of speed for the throttle lift-off in L-T-W to make enough difference: too slow an entry speed and you pretty much just drive around the corner.
I did pretty well after the first couple of corners, although two issues immediately cropped up that would be challenges throughout the day (more or less), and both probably due to my road-racing experience:
I tended to get back to the throttle too early and too aggressively, sometimes due to not waiting long enough and sometimes due to lack of familiarity with a loose surface, which meant I tended to spend more time counter-steering out of the slide than letting the car do it for me. In a competitive situation, of course, this would mean lost time, but for today it just meant a small element of frustration crossed with loads of silly fun. (For a n00b like me, this could also lead to half-spins and facing the wrong direction, but I only came close to doing that once all day.)
Although you want to late-apex a corner so that you can get back on the power as soon as possible, just like with road-racing, the slippy nature of things means you need to start the process of cornering a lot earlier than seems normal. Taking a road-racing approach to a corner means you're still going to be in your slide as you go past the apex and also increases the chances you won't be ready to get back to power until you're actually off the road.
Going into the exercise, I thought I'd have a much harder time with L-T-B than L-T-W, but the immediacy of the vehicle changes due to braking helped me a lot with corner entry, which also indirectly helped me minimize how much I'd overdo the throttle application exit.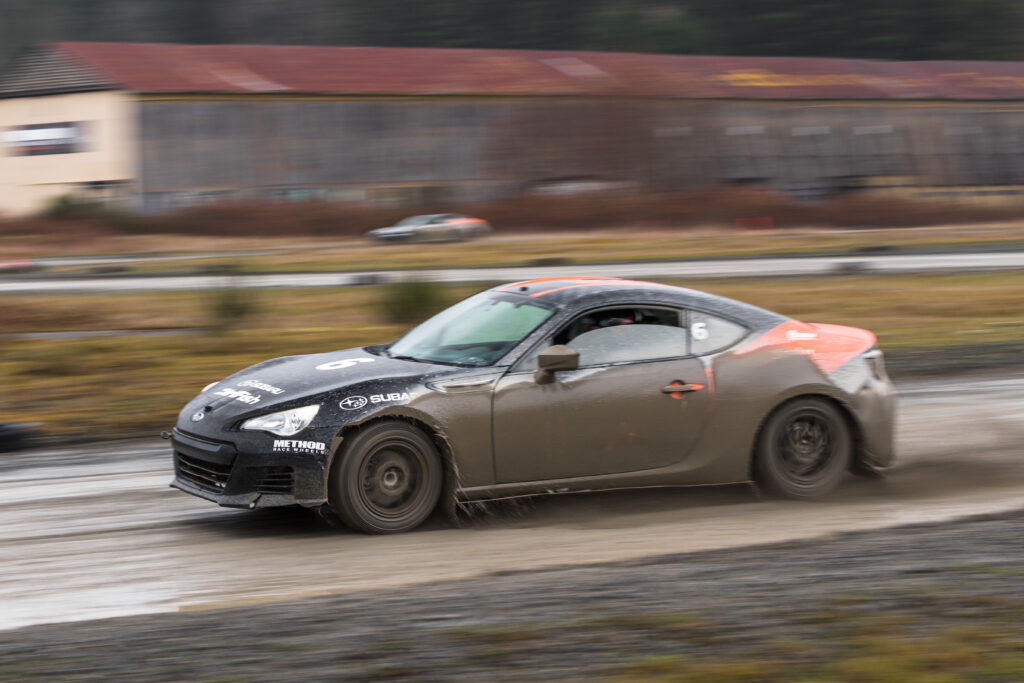 The Slalom
We followed that up with a trip to The Slalom, where we'd be putting our new skills to the test in a quick series of left-right turns. Aside from practicing how to turn on gravel, the "trick" to the slalom on a loose surface is that it's about maximizing the time spent in a straight line. On pavement, a straight-line slalom is basically just a series of minimum-radius turns, since traction isn't much of an issue. On a loose surface like gravel or mud (or both, in our case!), it's really a series of straights connected by short slides, leading to less of a serpentine path and more of a narrow zig-zag line. In my case, I quickly got a bit frustrated as I was trying (stupidly) to carry as much speed as possible through the cones before I'd even come close to mastering the differences between doing this on gravel vs. pavement.
While a lot of the students (and even some instructors) thought that this was a bit much as our first exercise using skills we just learned, our lead instructor for the day pointed out that, although he also agreed that it could be a little overwhelming for so early in our learning curve, there were a number of subtle things the slalom was teaching us somewhat unconsciously. (By the end of the day, I could see that he'd been right. Listen to your instructors, kids.)
The Boneyard
Our last exercise before lunch was to head over to The Boneyard, which we all agreed felt like a more natural experience than The Slalom. Here we'd still be practicing the same skills we'd learned on the skidpad and The Slalom, but in a more "rally stage"-like setting with a mix of 90-degree corners, a sweeper, a straight long enough to get the car moving, and a decreasing-radius corner that became an increasing-radius corner when we ran the other direction.
Aside from a chance to stretch our legs a bit with a longer, more diverse course, one of the biggest takeaways at the time was learning to adapt to changing surface conditions. There was a lot of on-again/off-again rain, sometimes quite heavy, that was creating puddles and mud. Combine that with the constant passage of cars being driven more intensely (i.e., deeper ruts and more scattered gravel) and every run through the course meant that the surface was different from every prior run. For me, most of the adjustment was learning how to visually identify where the grip was likely to be, both in terms of where obvious water or mud wasn't and in the changing shades and colors of the surface, and then adjusting my line accordingly.
Interlude: Trail-braking
After lunch, finished off by a quick classroom discussion about threshold braking and trail-braking, we headed back out to the course to get some demos from the instructors on threshold braking (braking effort just short of locking the front wheels, which obviously happens much sooner on a loose surface than on pavement) and then get in some practice trail-braking, a new skill we'd be needing for the remainder of the afternoon as we'd be approaching corners with more speed than we had in the morning. In my case, road-racing had educated me pretty thoroughly on threshold braking already, and having raced two front-wheel drive cars had taught me all about trail-braking, which you tend to use pretty regularly to help rotate a FWD car in a corner.
What the other guy in my session and I both noticed, though, during our time out of the cars, was how quickly and dramatically the surface was degrading during the other group's practice. The rain had come down pretty heavily during our lunch break and having cars doing threshold and trail-braking in the same spot, over and over, was dramatically degrading the brake zone. In fact, the gravel got so washboard-ed that they had to call out the tractor to regrade the area before the cars starting breaking ball joints or other suspension pieces. It was a good lesson on something we'd also encounter later that day.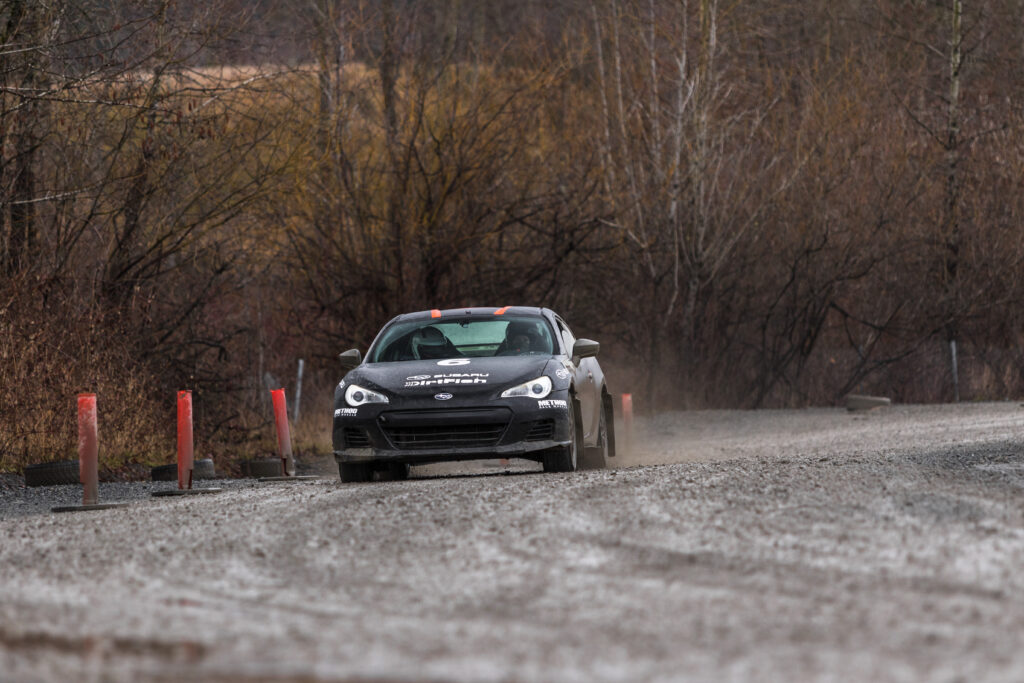 Putting it all together: The Link
The last part of the day was to put everything together by doing The Link, which is comprised of The Boneyard and The Slalom, connected by a big, 270-degree turn ("The Link" itself), and run in both directions. If running The Boneyard was so enjoyable partly because it felt more natural, The Link gave us a chance to really stretch our legs.
Again, because of all the rain during our lunch break, there were loads of puddles and the gravel-to-mud ratio had definitely shifted to the slippy end. As someone in the second run group, and just as during our trail-braking lesson, it was pretty obvious that every pass was degrading the course. And, again, the tractor got called to regrade various parts of the course to help minimize strain on the cars. The first thing my instructor did, once it got to be my turn, was to point out various places where the course had changed dramatically from when we'd run The Slalom and The Boneyard before lunch.
I remember thinking, partway through my first run, that a lot of the things we'd learned had "settled in" during the lunch break, leaving me less focused on "what am I supposed to be learning here" in any given situation and more on just doing. (As a former performance driving instructor myself, it's both amusing and a bit galling to have heard myself say things on the day, and think things to myself later, that were parroting things students of mine have said over the years. Ah, blissful irony.) By then, too, I had developed more of a feel for the handling of the car and the feel of the surface, which meant I was way more comfortable trusting my skills and experience with "driving at speed" and therefore more willing to really push the car within my abilities.
I was still making mistakes, of course, although most of them were down to the same issue I'd had all day as an experienced road racer coming to a loose surface for the first time: too much throttle too soon. On pavement, you're using the steering wheel to change direction, obviously, but on gravel or another loose surface you're mostly using it to help unsettle the car so the rear comes loose, which is when you start steering the car with throttle application (and relatively small amounts of counter-steering).
All well and good, but my near-constant challenge that afternoon was forcing myself to hold the angle of steering and controlling the amount of slide by easing up on the throttle, when my instincts were to counter-steer MORE and use MORE throttle to straighten the car. As long as you're in control of the slide relative to the available grip, what I was doing works, sure, but it's less likely to work when you're really flogging the car at speed… which as n00bs, we weren't.
Don't get me wrong, though: massive power-slides in a controlled, non-competitive environment are loads of fun. In fact, there were several corners I went into with the intention of doing it "wrong" just for the sake of some silly fun.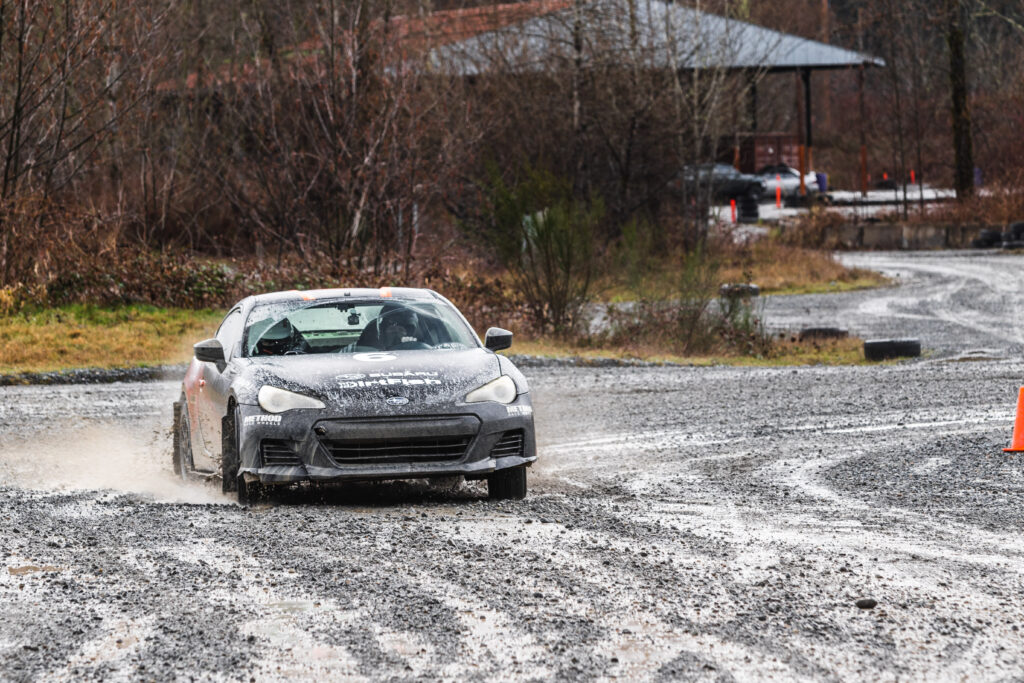 Conclusion
So, was it fun? Oh for sure, even with all the mud I got all over what had been a nice pair of shoes. Was it worth it? For an experience, most definitely, and I'd recommend it to anyone who enjoys playing with cars.
Getting back to my justification for spending the money in the first place, though? Well, while I learned a lot about driving off-pavement and feel like it was a good foundation for learning more rally-style driving, I'm not sure a lot of that learning is going to be useful when I'm back racing on pavement. On the other hand, due to my recurring need to get back on power once I thought I had exited a corner, I did get to spend a lot of time practicing countering an oversteer moment, so… mission accomplished! 😀